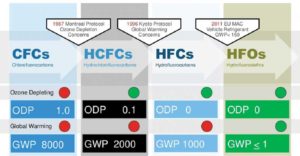 The bigger picture
As an industry, it is crucial to take a holistic view when choosing materials, and not form judgments based on one key performance characteristic. A realistic approach for determining environmental impact of a wall enclosure is to calculate the total system GWP. This includes the impact from all control layers (heat/air/moisture/vapour control strategies). Some insulation products can be installed individually to meet the intent of all the control layers or several products could be systematically arranged in an assembly to meet the intent of the control layer requirement. Figure 5 provides the GWP total (cradle to grave) for all traditional insulation material types at a set thermal performance of R 1 m2K/W (5.7 hr.sf.F/BTU) and 1 m2 (11 sf). There is also a GWP total (cradle to grave) for a rubberized asphalt backed polypropylene filmed membrane, which may be required for insulating materials not performing as air/vapour/moisture barriers. Figure 5 identifies the highest to the lowest GWP insulation materials. It is apparent certain foam products with a high GWP blowing agent do not necessarily carry the highest embodied GWP.
Conclusion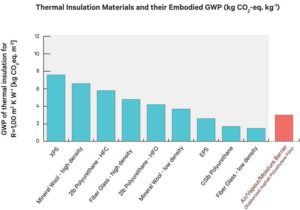 All insulation materials, when used effectively in thermal applications, can reduce the impact buildings have on climate change by reducing heating and cooling loads. The payback of embodied carbon from thermal insulations vary based on thickness, energy use, climate, etc. However, when installed, most thermal insulation will have a greater lifetime carbon savings than the amount of embodied GWP for these insulations during manufacturing. This is not true for insulations in non-thermal applications, such as acoustics, passive fire protection, and architectural finishes (such as cladding) where the GWP used in the manufacturing process will never be recaptured through heat transfer. In these instances, it is beneficial to use materials with lower embodied GWP.
The Canadian government and Environment Canada are taking a strong stance by recognizing the harmful effects of high-GWP materials, and implementing a HFC phase-down plan. Some low-GWP alternatives are already available in the market. Although much work remains to be done to ensure the full adoption of these new technologies, industries currently using low-GWP alternatives have proven they can move quickly to protect the environment. January 1, 2021, will mark a milestone in the evolution of thermal insulation.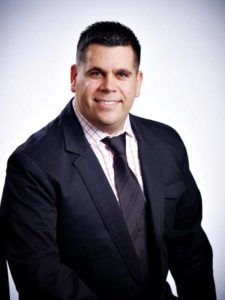 Rockford Boyer is the technical manager, building enclosure at Elastochem Specialty Chemicals. Boyer has a diploma in civil engineering, a degree in architecture (building science option), and a master of building science degree. Boyer has more than 15 years of experience in the enclosure design field, including five years with AMEC, Earth and Environmental, 10 years with Roxul/Rockwool Insulation, and two years with Elastochem. He can be reached at rboyer@elastochem-ca.com.

Control the content you see on ConstructionCanada.net!
Learn More.