The everyday meets the exceptional in Québec aquatics facility
by sadia_badhon | February 26, 2020 7:08 am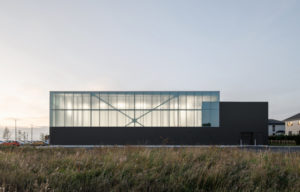 Designed by Lemay[2], the Beloeil Aquatics Centre[3] in Beloeil, Qué., offers a strong architectural response to its unique environment that is defined by the dramatic cliffs of Mount Saint-Hilaire, the Richelieu River, and picturesque agricultural lands.
Lemay's architecture, interior design, and landscape architecture for the modern aquatics centre seek to prove that judicious design can elevate projects with modest budgets and integrate with pastoral landscapes.
"Our goal was to maximize delicate and nuanced design strategies to make the most of this community-building opportunity," said Pierre E. Leclerc, Lemay associate.
A luminous, translucent glass box on a black base comprise the building's simple massing of two distinct and complementary geometric forms, its elements echoing the meeting of sky, water, and plain. Smooth and shiny by day, the light box reveals the depth of its structure at night. A system of vertical acoustic louvers acts as a natural and artificial light diffuser, accentuating an impression of vibrations inside and outside the pool envelope.
By the simplicity of its form and construction, the project reflects the duality of everyday and exceptional: the geometric encounter between opacity and transparency, the darkness of the base and the lightness of the water bodies offer vibrations of textures and variations on architectural form.
The interiors are flooded with light and the southeast façade is directly in line with the axis of Mount Saint-Hilaire, so occupants can maintain contact with the mountain. The new presence knits together community fabric and bucolic landscape: a seamless black solid emerging from the ground.
Endnotes:
[Image]: https://www.constructioncanada.net/wp-content/uploads/2020/02/Opener-11.jpg
Lemay: http://lemay.com/fr
Beloeil Aquatics Centre: https://piscinesbeloeil.com/
Source URL: https://www.constructioncanada.net/the-everyday-meets-the-exceptional-in-quebec-aquatics-facility/
---