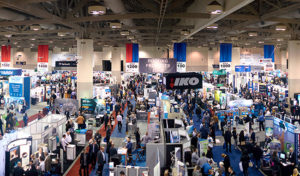 The Buildings Show and BUILDEX Alberta are coming together to provide a national digital platform that virtually connects more than 70,000 design, construction, and real estate professionals across Canada at Buildings Week from November 30 to December 4.
Powered by Buildings Canada and Informa Connect, Buildings Week will offer high quality content, targeted networking, and new business opportunities.
"We have a 32-year history of bringing together thousands of attendees from key industries to create premiere networking, sourcing, and professional development events for the built environment. We are recognized as producers of Canada's leading design, construction, and property management events and could not pass up the opportunity to continue to provide this despite the current situation" said Nancy Milani, vice-president, trade expositions, Informa Connect. "We are excited to bring this opportunity to our audiences for leads, engagement, networking, and education. Our long-time association partners, exhibitors, and sponsors are showing their support, and collectively we look forward to keeping our community connected."
The virtual event experience comprising The Buildings Show|Construct Canada, PM Expo, HomeBuilder & Renovator Expo, World of Concrete Toronto Pavilion, and BUILDEX Alberta, offers everything attendees have come to expect from the face-to-face events, plus innovative features not possible at the in-person show.
Attendees can explore virtual booths and an online marketplace to discover leading product innovations, learn about technical specifications, watch live product demonstrations, connect with clients and colleagues, and much more.
Attendees can also continue to join interactive panel discussions, hear from industry thought leaders, and follow or get involved in the discussion by using audience polls, speaker Q&As, and group chats. There will be a mixture of live, prerecorded, and on-demand content from across the industry and, for the first time, across the nation.
Over 100 professionally accredited educational seminars, virtual panels, technical presentations, keynote sessions, and professional development workshops will now be offered online.
There will also be a virtual event preview from November 23 to November 27. Registration to the digital platform is free for all industry trade professionals and the early bird deadline for discounted education programming expires November 13.
Click here for more information or to register.