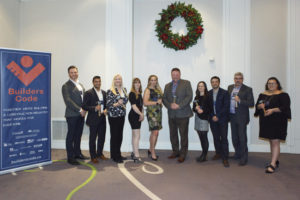 The Builders Code, a pilot program launched to help create organizational change in the British Columbia construction industry, has honoured six companies for their leadership at the inaugural Builders Code Champion Awards in Victoria.
To be recognized as a Builders Code champion, individuals and organizations must have demonstrated their commitment, leadership, and action toward advancing and retaining women in their company and achieving the provincial goal of 10 per cent tradeswomen by 2028.
Nomination applications were accepted from May to November 1, with winners selected by a judging panel comprising of Minerva BC, the British Columbia Construction Association (BCCA), and the Builders Code Governance Committee.
The winners are:
RAM Consulting (Vancouver) in the 'Recruiting & Hiring Champion' category;
Scott Construction Group (Vancouver) and Kinetic Construction (Victoria) in the 'Workplace Culture Champion' category;
Westcana Electric (Prince George) in the 'Community Champion' category;
Durwest Construction Management (Victoria) in the 'Initiate of the Year' category; and
Westcana Electric (Prince George) and Chinook Scaffold Systems (Nanaimo) in the 'Contractor of the Year' category.
"Your commitment to safe and inclusive workplaces contributes to a more accessible sector for everyone," said Mitzi Dean, Parliamentary Secretary for Gender Equity. "Initiatives like the Builders Code are a rallying point to get more people involved in the trades, helping our province continue to grow while embracing diversity."