By Michael Salerno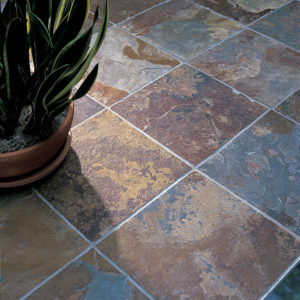 Natural stone seems to be a fairly obvious option for flooring material. Ancient ruins throughout the world provide many examples of stone flooring still intact thousands of years later. However, the same rules that apply to stone cladding selection, installation, and site preparation—topics explored in Construction Canada's September 2017 issue—also apply to flooring.
Many factors can influence stone selection. One often-overlooked consideration is the sourcing component. Can the desired stone be quarried from blocks that meet size requirements? What about thicknesses? Slate, for example, is often used for flooring, but is typically a thin stone. Do conditions such as temperature fluctuations and humidity levels support the stone's properties?
Site preparation is critical. There can be a number of different ways to prepare a subfloor, depending on what stone is selected. Concrete and plywood are likely the two most common substrates on which natural stone is applied, but any substrate that can shrink, expand, or move in any way requires a cementitious backer unit (CBU) to provide stability and act as a moisture barrier.
Meticulous preparation of a wall's substrate is necessary for stone cladding. Engineering will dictate anchor systems and design to ensure the stone can be affixed to last. However, one must make the same careful considerations for natural stone flooring. Preparation cannot be minimized just because gravity does not come into play. There are many examples of stone floors needing rehabilitation due to a host of issues that could have been addressed upfront through careful planning.
One of the benefits of using natural stone for flooring is the ability to fabricate sizing and design. In the case of patterns, especially within large spaces, the same stone consultant who provides guidance for sourcing and selection can usually also provide shop drawings to ensure installation accuracy and efficiency.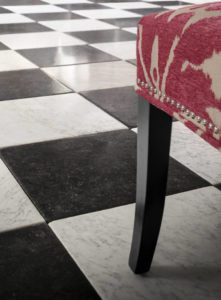 Natural stone is likely the most long-lasting material available. For this reason, it is often used in office towers and hotel lobby areas, as frequent disruptions to repair or replace a floor in areas like these will have an adverse impact on customers. Natural stone thus offers a strong return on investment (ROI) over time, being a fairly simple product to maintain. It is generally much more resistant to scratches and staining than other materials, such as wood flooring. An annual sealing process, combined with routine sweeping and cleaning, will help ensure the flooring looks great for years.
Natural stone offers many benefits as a flooring application, such as great longevity and quantifiable ROI. An objective stone consultant will bring value to a project by ensuring proper stone selection, including sourcing, and can offer services such as creation of shop drawings.
Additionally, for those applying for Leadership in Energy and Environmental Design (LEED) points in their projects, natural stone flooring is an excellent choice to stand upon. ANSI/NSC 373, Sustainable Production for Natural Dimension Stone, is now recognized by the U.S. Green Building Council's (USGBC's) LEED v4 building certification program, as well as the International Living Future Institute's Living Building Challenge (LBC), version 3.1. Now, design teams have a clear path to ensure the stone they specify helps projects reach sustainability goals as outlined by LEED and LBC.
For more information on natural stone flooring, visit www.naturalstoneinstitute.org and www.usenaturalstone.com.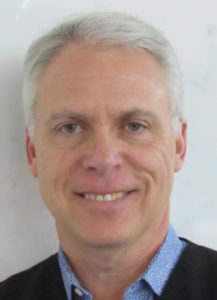 Michael Salerno is responsible for sales, marketing, and business development activities at PICCO Engineering, and is also part of their senior management team. He holds a degree from the University of Toronto, and is heavily involved in the Building Industry Land Development Association (BILD) on behalf of PICCO. Salerno can be reached at msalerno@picco-engineering.com.

Control the content you see on ConstructionCanada.net!
Learn More.