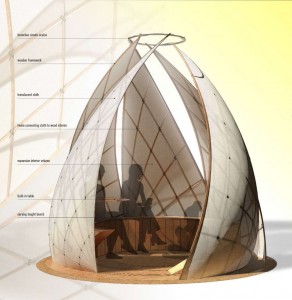 The third Sukkahville pop-up housing event will take place in Toronto's Mel Lastman Square later this month.
Presented by the Kehilla Residential Programme (KRP), the program's goal is to draw attention to housing design trends, as well as the city's lack of affordable housing.
A sukkah is a temporary structure used during the Jewish Sukkot festival. Architects, students, and other design professionals are invited to submit designs to be considered for the event and the competition being judged by a panel of industry experts.
"The program demonstrates to design professionals that innovation is possible and a box is anything but a box when creativity is let loose," KRP's executive director Nancy Singer told Construction Canada Online. "Most importantly, a symbolic temporary structure can be used to encourage the design community to think out of the box with the aim of encouraging others to support the cause for permanent affordable housing."
Some criteria the designs must meet include:
the footprint cannot exceed 9.3 m2 (100 sf);
its height must be between 965 mm (38 in.) and 9.1 m (30 ft);
the roof must be made of natural materials; and
roofs must provide shade during daylight and sky views at night.
This year's program received twice the amount of submissions as last year, with new design elements and submissions from all over the world.
"Some of the design highlights include the clever use of materiality, interpretation of the rules, and quality of the submissions received," Sukkahville Design Committee's Craig Deebank said. "While there were so many creative submissions, the six finalist designs selected by the jury demonstrate how diverse and unique the Sukkah proposals are."
The six finalists will be displayed during the final days of the event, September 22 to 24.