Tech-enhanced classrooms inspire collaboration at Toronto university
by nithya_caleb | August 22, 2018 10:16 am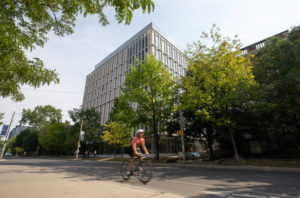 Welcoming its first students in September 2018, the Myhal Centre for Engineering Innovation & Entrepreneurship[2], University of Toronto[3] (U of T), Ont., is designed to enable collaboration between researchers, students, industry partners, and alumni. This nine-level, energy efficient building includes prototyping facilities, multidisciplinary research hubs, design studios, and technology enhanced learning spaces.
Designed by Toronto-based Montgomery Sisam Architects[4] and U.K.-based Feilden Clegg Bradley Studios[5], the Myhal centre meets or exceeds many Tier 2 Toronto Green Standard[6] (TGS) performance measures.
Sustainable features include solar panels, a green roof, cisterns to collect and recycle rainwater, and passive heating and cooling systems.
"By design, the Myhal Centre will invite and inspire new levels of collaboration, innovation, entrepreneurship and experiential learning. Here, researchers will come together in multidisciplinary institutes and centres, and students will gain knowledge in dynamic settings conducive to active learning," said Meric Gertler, president, U of T.
The Myhal Centre enriches the student experience by creating dynamic, flexible environments that foster collaboration and experiential learning. It boasts five technology enhanced active learning (TEAL) rooms with reconfigurable spaces, seven design studios, and a two-storey aerial robotics lab. An innovative 468-seat auditorium features small-group seating and highly interactive learning and communications technology.
Dedicated space on the ground level for meeting rooms and student clubs enhance the Myhal Centre's vibrant learning environment.
The building is home to the Centre for Global Engineering (CGEN), University of Toronto Institute for Multidisciplinary Design & Innovation (UT-IMDI), Institute for Sustainable Energy (ISE), Institute for Water Innovation (IWI), Institute for Robotics & Mechatronics (IRM), Troost Institute for Leadership Education in Engineering (Troost ILead), and The Entrepreneurship Hatchery.
Endnotes:
[Image]: https://www.constructioncanada.net/wp-content/uploads/2018/08/Myhal.jpg
Myhal Centre for Engineering Innovation & Entrepreneurship: http://www.uoft.me/MyhalCentre
University of Toronto: https://www.utoronto.ca/
Montgomery Sisam Architects: http://www.montgomerysisam.com/
Feilden Clegg Bradley Studios: https://fcbstudios.com/
Toronto Green Standard: https://www.toronto.ca/city-government/planning-development/official-plan-guidelines/toronto-green-standard/
Source URL: https://www.constructioncanada.net/tech-enhanced-classrooms-inspired-collaboration-at-toronto-university/
---