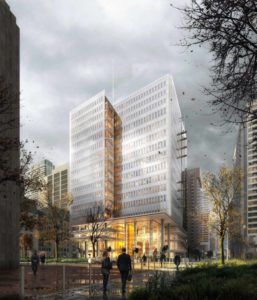 The new Ontario Court of Justice building in Toronto recently completed construction and is preparing to open to the public soon. Built as a high-rise, to Leadership in Energy and Environmental Design (LEED) Silver standards, it consolidates several justice courts in a single location, while staying context sensitive.
The project is intentionally compact, staying well below the maximum allowable height. It maintains a respectful relationship to Osgoode Hall, a national historic site, and Toronto City Hall, while also having a presence of its own. At the lower levels, the bulk of the building is pushed as far north as possible, maximizing exterior public space. The courthouse was designed and built to meet the LEED Silver standard, which recognizes buildings with reduced environmental impacts.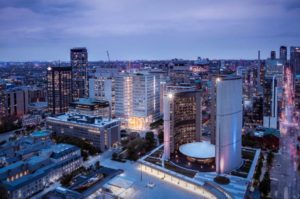 The design concept is defined by a desire to reimagine the institutional building and the courthouse as an integral civic component within the city that is accessible, dignified, and independent.
The architecture expresses a clear image with a simple form that is both legible and transparent. The transparency of the lower levels, in particular a 20-m (65.6-ft) tall atrium surrounded by a minimal cable facade, allows for a relationship to exist between the institution and the city. A 90-m (295-ft) tall architectural mast marks the judicial precinct and aligns to the east portico of Osgoode Hall, and the northern terminus of York Street. The envelope of the tower is characterized by a layering of embossed metal panels, wood frames, and low-iron glass, generating a dynamic materiality, capped by a significant photovoltaic array.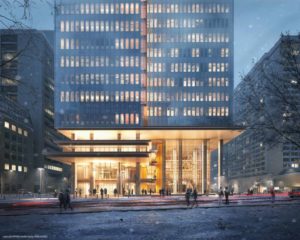 The building creates a new benchmark in the evolution of courthouse facilities, providing a unique mix of specialized courtrooms, support facilities, and enhanced accessibility features. It solves the challenge of the high-rise courthouse through a welcoming light-filled facility, integrating carefully into the important civic context.
NORR Architects & Engineers Limited (NORR) and Renzo Piano Building Workshop (RPBW), the architectural partners on the project, collaborated with EllisDon, the Ministry of Attorney General, Infrastructure Ontario, the many other stakeholders, and the larger consulting team.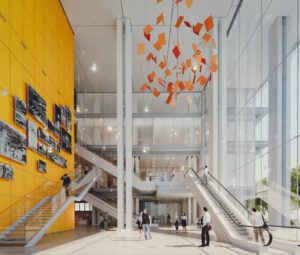 The new courthouse is one of the largest in Ontario, amalgamating several provincial courts of justice facilities into one location at the judicial centre of Toronto's downtown civic realm. The 17-storey tower features 63 courtrooms and 10 conference settlement rooms, along with associated support facilities. Specialty courts include drug, mental health, Indigenous, and youth courts.