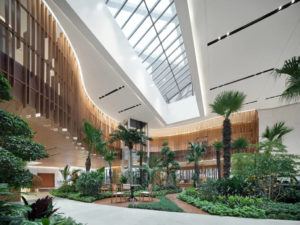 China-based interior design company, Sunson Design, revealed its latest project, Nanbo Bay Reception Centre, in Yinchuan, China. The reception centre is adjacent to China Yinchuan Cultural Park, backed by wetland.
The reception hall is a small ecological area surrounded by bamboo forests, banyan trees, plantains, and other fresh green plants. The low shrubs plus wooden negotiation tables and chairs form a longitudinally extending "indoor rainforest" and realize the organic combination of indoor, landscape, and virescence design.
Looking up to the top, cut pine and cypress trees are suspended. The corridor continues the natural ecological style, using logs, green plants, and undulating trees to enrich the spatial levels.   A covering glass dome draws light into the room and illuminates the atrium, emphasizing the landscape of the transition from the outside to the inside.
There is a ladder book bar on the left side of the reception hall, along with a bookshelf wall between the bar and the corridor. The floor-to-ceiling glass introduces natural light, which increases the permeability of the location.
In the dining area, bright wallpaper with melon and fruit patterns, bamboo screens and window lattices, and original wooden tables and chairs continue the natural characteristics.
The landscaped courtyard features a wooden sphere floor-to-ceiling sculpture, which remains motionless at the "opposite bank."
The outer glass wall of the swimming pool creates the unique visual illusion of zero gravity. The long wooden benches and stone sculptures by the pool, the soft film ceiling, and the glass light will allow the space to blend trees, water, music, natural light, and stone carving in nature.