By Connor Martin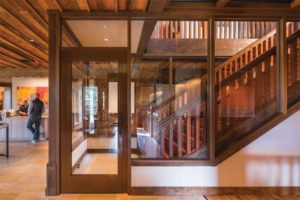 As encouraged by Frank Lloyd Wright in his famous quote, "Form and function should be one, joined in a spiritual union," architects and designers can merge the use of glass with the function of fire-rated partitions to achieve esthetic outcomes while complying with building codes.
In few arenas has the move toward this unity been more apparent than that of fire-rated glazing systems. For decades, the only glass option offering a degree of fire protection was polished wired glass. Polished wired glass was a hindrance to achieving the design intent because of limited allowable areas, questionable safety characteristics, and the wires themselves, as they created an imperfect transparent separation. Glass openings in fire doors were greatly limited in size based on fire rating and location. Further, if the installed glass ever broke, the wires would create sharp snags that could cause potential entrapment and injury to people using the exit.
Despite these drawbacks, wired glass was the only one on the market that could remain in the frame during fire tests. As a result, it became a ubiquitous presence wherever fire safety was a concern.
The lack of diversity in available materials meant  that the vision for a building's look and feel had to accommodate the one product that could protect building occupants.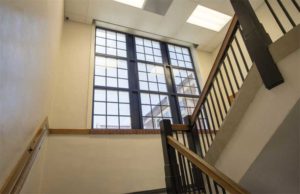 The good news is that the last few decades have witnessed an explosion of innovation in fire-rated glass, glazing, and framing materials. Today's product range offers options that surpass traditional wired glass in fire performance and provides a variety of appearances that contributes to and enhances the overall design of fire-rated separation.
The benefits of redundancy
Fire-rated glazing plays an integral role in a building's overall fire and life-safety protection plan through the vehicle of compartmentation. By safeguarding against the spread of flames, smoke, and, in some instances, heat, the material helps contain a fire. The sub-division of space helps buy time for occupants to exit the building and firefighters to arrive and extinguish the fire. While this passive form of protection may seem unnecessary in a world of smoke detection and suppression systems, the redundancy is paramount in creating a holistic and well-balanced, fire- and life-safety plan.
Smoke alarms, heat sensors, and sprinklers are vital weapons in the fight against fire. They alert occupants to the threat of fire and provide initial and crucial suppression against flames and smoke. As 'active' systems, they rely on an action or trigger to perform properly.
Passive materials like fire-rated glazing do not require activation. They supplement active systems, helping limit the rate of fire growth. In effect, they allow more time for active systems to alert occupants of a fire threat and/or suppress flames and smoke for safe occupant evacuation.
Since active and passive systems work in tandem, they also reinforce one another. For example, while active systems often perform as expected, it is possible for a fire to exceed the size for which the systems have been designed. Further, sometimes a given system may fail to activate. In either scenario, if the detection or suppression system has been rendered ineffective, the passive system is still at work defending against the spread of fire.
Clear needs, clear choices
Today's glass products have diversified not only the way they enhance fire safety through passive protection, but also in how they are classified as building materials. There are now two primary categories of fire-rated glass: fire protective and fire resistive.

Control the content you see on ConstructionCanada.net!
Learn More.