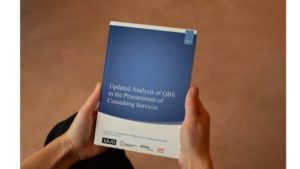 An independent study has confirmed the benefits to buyers and end-users of qualifications-based selection (QBS) in the procurement of professional services—such as the fields of architecture, engineering, construction management, information technology (IT), and marketing consulting.
QBS is also sometimes referred to as quality-based selection, and according to the Royal Architectural Institute of Canada, it is most used in hiring architects for a project, who are vetted because of their professional qualifications and competence.
The study was jointly held between QBS Canada, a coalition advocating for the use of QBS in hiring of professional service firms, and the U.S. Cal Harrison, President of QBS Canada said, "An adjustment in thinking about procurement will benefit buyers with significant additional value and lower risk when in the market for professional services … The focus of QBS is first finding the most appropriately qualified consultant, and then starting the fee negotiation process, rather than the traditional RFP process that relies on cost as a first consideration."
Through QBS, suppliers first compete on experience and technical expertise, rather than price or the cheapest bid, so price is not an initial element of the QBS selection process. The most qualified firm will then enter scope and price negotiations and settle on a fair price and clearly defined deliverables. If fair and reasonable fees cannot be agreed upon, negotiations commence with the second most qualified firm.
The study partner, Professor Paul Chinowsky, University of Colorado Boulder, said, "Most people intuitively understand that by focusing on price and buying based on low cost, there is a significant risk of low-quality outcomes. Some buyers think QBS means price is not considered, but it is considered, just not in the preliminary selection process where it is more important to identify the most qualified and the most capable supplier."
The study authors conclude in the built environment sector there is a strong association between the use of QBS, the quality of construction documents developed by the design team and the final cost and schedule performance. In addition to providing traditional cost and schedule savings, QBS also has indirect benefits in the form of reduced management issues and increased innovation.