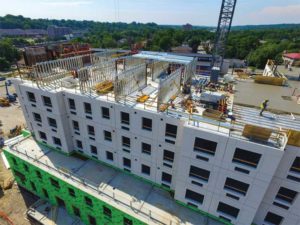 By Jon Hiltz
Cold-formed steel (CFS) construction has evolved into a logical and efficient way to build many structures. Further, steel framing can be combined with offsite construction techniques to fully capitalize tighter tolerances and precision assembly processes.
This was the chosen method for building the Seasons Retirement Community in Cambridge, Ont. But it was not the original plan.
Originally, the building came to structural engineers Atkins + Van Groll Consulting Engineers as an all-concrete structure. At the client's request, the firm redesigned the building to employ light-gauge steel framing. The selected composite steel/concrete floor systems uses about half the amount of concrete of cast-in methods, and thus is generally more cost-effective for this type of structure.
Seasons' Cambridge facility consists of about 125 suites in a 11,706-m2 (126,000-sf) main building plus a memory care wing. The structure also incorporates 2611 m2 (28,100 sf) of parking. The building's superstructure is comprised of a poured concrete foundation, light-gauge steel frame, and composite steel/concrete flooring system.
The new apartment building will offer residents a range of care options including independent living, assisted living, and memory care. It will also feature amenities like a café/pub, recreation areas, an exercise room, theatre, hair salon, dining room, wellness centre, and a 1486-m2 (16,000-sf) green-roof terrace located over the parking structure at the second-floor level.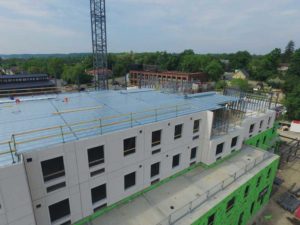 Floors three to eight are strictly light steel framing (LSF). The basic building blocks of LSF construction are steel channels, coated with a zinc or aluminum-zinc alloy coating.
For Seasons' Cambridge building, both the exterior walls and interior main partitions walls are loadbearing. The exterior walls employ 152.4-mm (6-in.) structural steel stud with 41.3-mm (1 5/8-in.) flange, 0.84 or 1.09 mm (33 or 43 mil). Additional CFS sections were 92-mm (3 5/8-in.) steel framing or 152.4-mm steel framing. The steel deck of the composite floor is G90 18-gauge galvanized steel.
A distinctive feature of this building is the construction method of the exterior steel walls. These were constructed offsite, as a pre-finished panel. The exterior insulation and finish system (EIFS) is pre-installed onto the panel allowing the panels to be placed by crane around the exterior and secured. The EIFS are finished in either stucco or faux brick. This method eliminates the need to go back and apply exterior insulation and finishes once the structural work is complete.
The selected EIFS system consists of the following layers: expanded polystyrene (EPS) insulation with factory cut channels, insulation adhesive, glass fibre reinforcing mesh, base coats, and a finish texture coat. This 10-mm system is Underwriters Laboratories Canada (ULC) rated as non-combustible cladding, meeting building code requirements for non-combustible construction.

Control the content you see on ConstructionCanada.net!
Learn More.