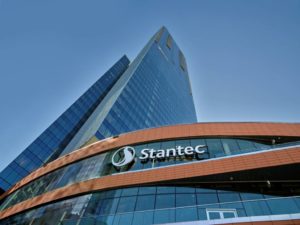 Global architecture, engineering, and design firm Stantec has been selected to design the Future Fighter Capability Project Fighter Squadron Facilities at 3 Wing Bagotville, Que. and the Fighter Squadron Facility at 4 Wing Cold Lake, Alta.
Jodoin Lamarre Pratte architectes has been mandated, within the multidisciplinary team assembled by the joint-venture of builders Ellis Don / EBC and Stantec in engineering, to design the fighter jets squadron facility on one of the main bases of operations which will host the new aircrafts Canada will acquire by 2025.
This contract, obtained through a quality/price request for proposals and concluded between Ellis Don / EBC and Defence Construction Canada (DCC) will be carried out in 'Modified Design-Build' mode, an innovative delivery method used by DCC for its major projects, which combines the advantages of the design-build mode while allowing for a more iterative process between the designer-builder and the client.
"It is an honour to lead the design of the infrastructure for the future fighter jets in Alberta and Quebec," says Elisa Brandts, managing senior principal of Stantec. "These projects support the expansion of Canada's Air Force capabilities and will support the RCAF fighter operations at both bases."
The Cold Lake Fighter Squadron Facility (FSF), at more than 40,000 m,2 will host two Tactical Fighter Squadrons (TFS), the Operational Training Unit (OTU), and their support facilities. The Bagotville FSF will host two Tactical Fighter Squadrons and will cover over 30,000 m.2 Both facilities will provide space for daily operations, aircraft maintenance, administration, mission planning, and simulator training.
Both facilities will be designed and constructed to Leadership in Energy and Environmental Design (LEED) Silver standard and will use energy-efficient options wherever possible.
Construction is expected to begin at both bases in summer 2022. Approximately 900 jobs are expected to be created to support design and construction of both facilities.