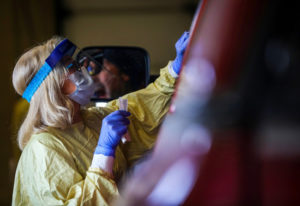 Stantec, along with Alberta-based companies Sprung Structures and CANA Construction, has been selected by Alberta Health Services (AHS) and the Government of Alberta to design and construct the province's first temporary COVID-19 treatment centre at the Peter Lougheed Centre in Calgary.
The facility will house up to 70 patients and will add over 750 m2 (8000 sf) of treatment space. The temporary treatment facility will be turned over to AHS on April 27 to begin equipment installation, and patient intake preparation.
Stantec is providing design and engineering services for the temporary pandemic response facility. In addition to leading the architecture and interior design, Stantec is responsible for electrical, structural, and mechanical engineering. Working directly with key user groups including physicians and nurses, Stantec has led health-care planning services to ensure the temporary centre supports AHS treatment practice while keeping patients and health-care providers safe.
"We are a proud, Alberta-based company and have long-standing relationships with our partners at the Government of Alberta and AHS," said Todd Hartley, senior principal, Stantec. "As part of a private sector team, which included Sprung Structures and CANA Construction, who collectively brought this concept to AHS, we came together working at rapid pace to execute the design, procurement, and construction in an unprecedented manner. We all want to do our part in supporting the COVID-19 response and recovery, and I know our teams feel privileged to support Albertans when they need us the most.
Sprung Structures has donated the structure, valued at approximately $235,000. The scaffolding for mechanical and a walkway on the structure was done by J.R. Spronken & Associates and KTA Structural Engineers designed the 15 m (49 ft) Sprung Structure and the wood foundation supporting it.
The Calgary Zone has more than 60 per cent of Alberta's confirmed COVID-19 cases. The temporary facility at Peter Lougheed Centre will be ready to accept patients in advance of the predicted COVID-19 peak in mid-May.