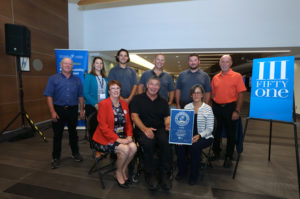 Husky Energy's downtown office space and the building in which it is housed in St. John's, N.L., have received an 'Accessibility Certified Gold' rating under the Rick Hansen Foundation Accessibility Certification (RHFAC) program. These are the first two gold certifications in the province.
"Accessible and inclusive workplaces mean that persons of all abilities can live without physical barriers, and I am delighted that these organizations are committed to removing barriers and leading the way towards improving accessibility for people living with disabilities in Canada" said Rick Hansen, founder, Rick Hansen Foundation.
Features that led to their gold ratings including:
a design space utilizing a 'right to light' methodology, meaning workstations are situated toward the building exterior and natural light flows toward the interior core;
a well-illuminated space utilizing an automated system to increase or decrease light depending on the conditions outside;
entry doors into spaces and washrooms with power operators on them;
wayfinding on every floor has colour coding to match glazed walls, signage, and furniture;
individual ergonomic workstations have height adjustable desks, task lights, and monitor arms;
generous aisle widths and interior circulation spaces;
large kitchens on all floors with varying seating arrangements and heights;
coffee stations outfitted with recessed sinks for persons in wheelchairs;
meeting rooms with a small electronic 'room view' device on the outside indicating if it is in use, free, booked, etc; and
a telephone room that was recently converted into a wellness room.