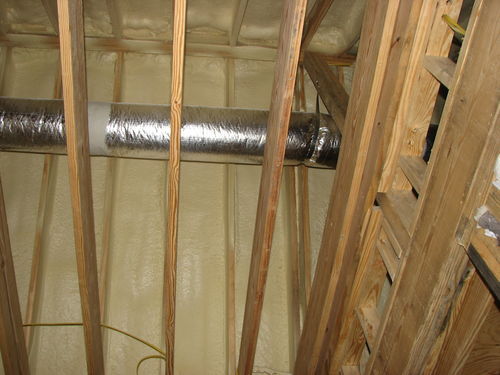 A new industry market report suggests the growing demand for sprayed polyurethane foam (SPF) in North America is expected to reach $900 million by 2016.
Conducted by market research firm Principia, "Spray Polyurethane Foam 2013" suggests the growth is due to increased construction as well as the expansion of SPF into other building materials, such as unvented attics and exterior walls. Additionally, increasingly stringent building code requirements have resulted in more attention to air infiltration testing and higher R-value insulation in residential applications. This can lead to SPF specifications since the material acts as a continuous insulation layer without thermal breaks.
"SPF is among the fastest-growing insulation types based on its high R-values and air and vapor barrier properties," Principia's Ken Jacobson told Construction Canada Online. "As energy efficiency and inhabitant comfort increases in importance in the minds of builders and property owners, and the awareness of SPF increases, the product will continue to capture share from other insulation types."
The document includes relevant market data, industry trends, and information related to all parts of the business spanning from product supply to distribution. Also included is a forecasting tool for hypothetical market performance based on assumed metrics such as construction growth and material market share.
Click here for more information.