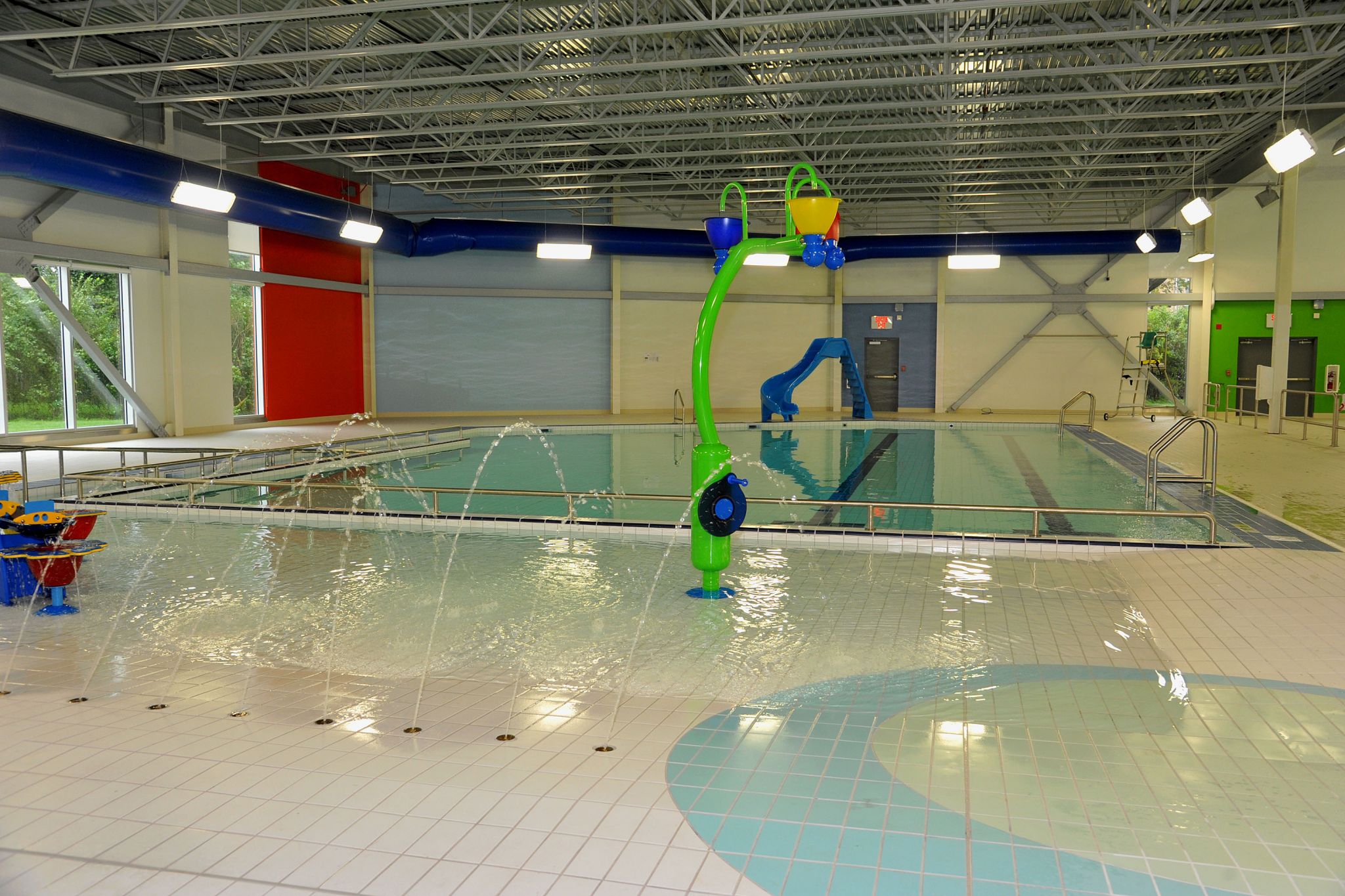 By Ralph Kittler, PE
Millions of Canadians swim in tens of thousands of natatoriums across the country, but many may be unknowingly exposed to risks related to poor indoor air quality (IAQ). As the pool industry has matured, the knowledge base regarding how to properly design, maintain, and control these spaces has improved, but several challenges persist or have become even more critical.
For example, indoor pool dehumidifiers—the heart of keeping these spaces comfortable—now use more environmentally responsible refrigerants. These new refrigerants are considerably more expensive than the traditional ones they have replaced; this means operators could be faced with expensive maintenance costs should equipment ever develop leaks or require service.
A perpetual challenge involves IAQ and water chemistry. 'Lifeguard lung' (granulomatous pneumonitis) is a respiratory condition induced from prolonged exposure to chloramines that offgas from the water and tend to linger just above the surface where swimmers breathe.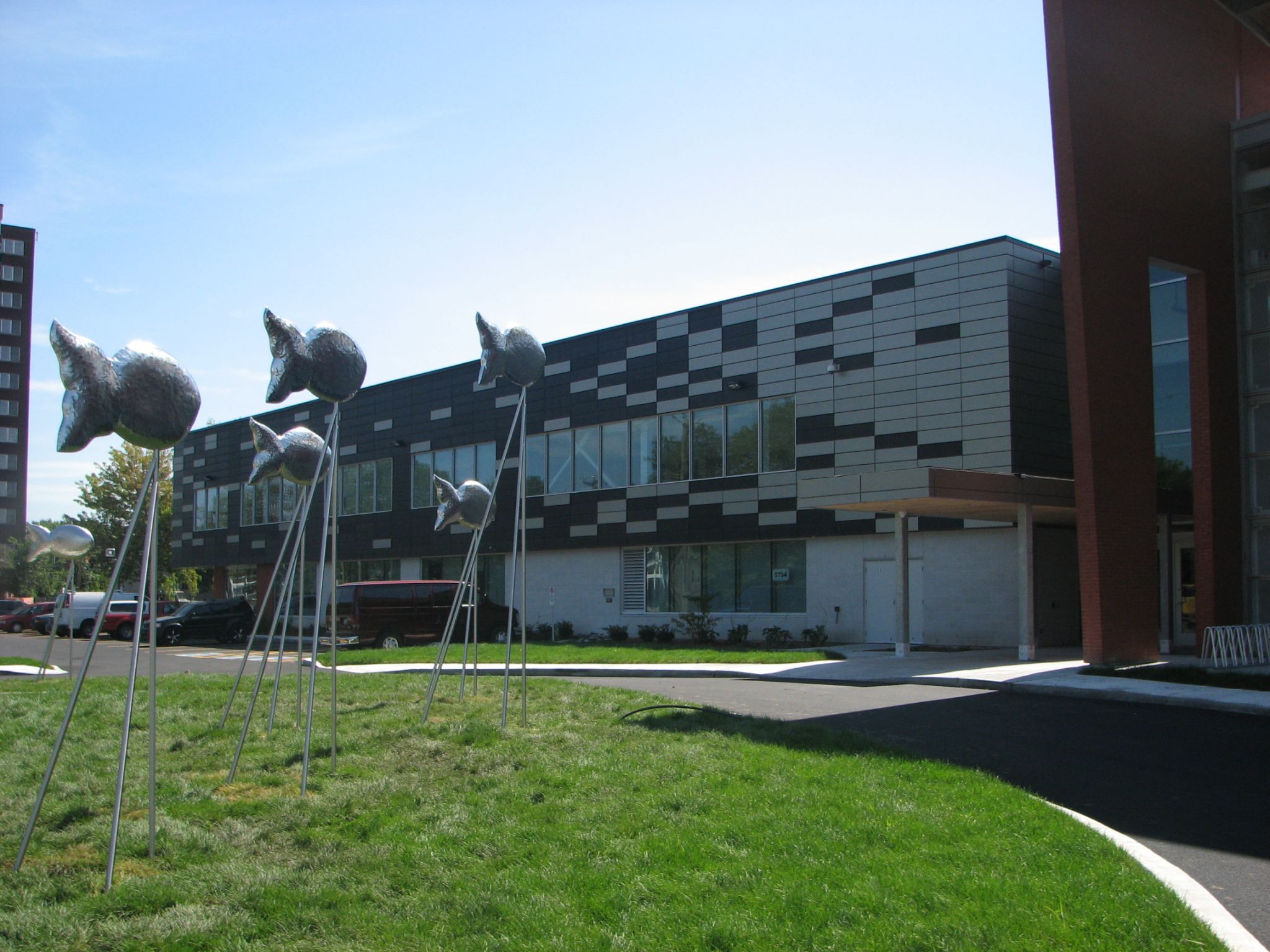 Fortunately, dehumidifiers have advanced in parallel with other computer-controlled technology ranging from personal computers and cell phones to automobiles. Consequently, it is increasingly easier for HVAC service companies and pool operators to monitor the spaces and deliver the best possible conditions. Dehumidifiers that might not have been running at optimal levels for delivering the designed energy efficiency and operational savings can be checked out and optimized using Internet-based technology.
This article explores three recent innovations in indoor pool HVAC technology that could become game-changers in the quest to help better preserve the environment, lower operating and maintenance costs, and create healthier indoor environments.
Reducing refrigerant
One cost-effective method of providing a comfortable and healthy pool environment is using a heat-recovery dehumidifier, which first became available in the mid-1970s. To keep the facility's relative humidity (RH) levels in check (i.e. 50 to 60 per cent) while also providing heating (for both the space and pool water) and air-conditioning, these modern dehumidifiers use vapor-compression refrigerants. Like all refrigerant-based equipment, dehumidifiers require regular service and maintenance; they could experience leaks into the environment during their lifecycle.
The Kyoto Protocol global environmental treaty in 1997 highlighted the damage of ozone-depleting chlorofluorocarbon (CFC) refrigerants, such as R-11 and R-12, and hydrochlorofluorocarbon (HCFC) refrigerants like R-22. This treaty exposed the environmental dangers of current refrigerants to the public's attention as well as indoor pool facility owners. Consequently, a host of new environmentally responsible refrigerant replacements have been introduced.
Considering all the costs and challenges from these new refrigerants and government mandates, by far the most important innovation in dehumidifiers the last few years has been the move toward refrigerant reduction. Consequently, technology is now available that enables a reduced refrigerant charge as much as 85 per cent compared to conventional dehumidifiers.
It should be noted this technology is not new; it has been employed in computer-room air-conditioning systems and environmentally sensitive areas for decades. Rather than using a conventional 'split system' where refrigerant is piped outdoors to a remote air-cooled condenser, these systems instead rely on a propylene glycol fluid loop for heat rejection to an outdoor air-cooled heat exchanger called a dry-cooler. Also employed in consumer goods ranging from shampoo and cologne to hand lotions, propylene glycol is basically sugar water; it is 95 per cent less expensive per pound than today's refrigerants.
Recent innovations by manufacturers have made these systems not only competitively priced with conventional assemblies, but also lower in installation costs. Innovative designs have these new systems performing at five to seven per cent higher efficiencies during normal days and the same overall efficiency on the hottest summer days.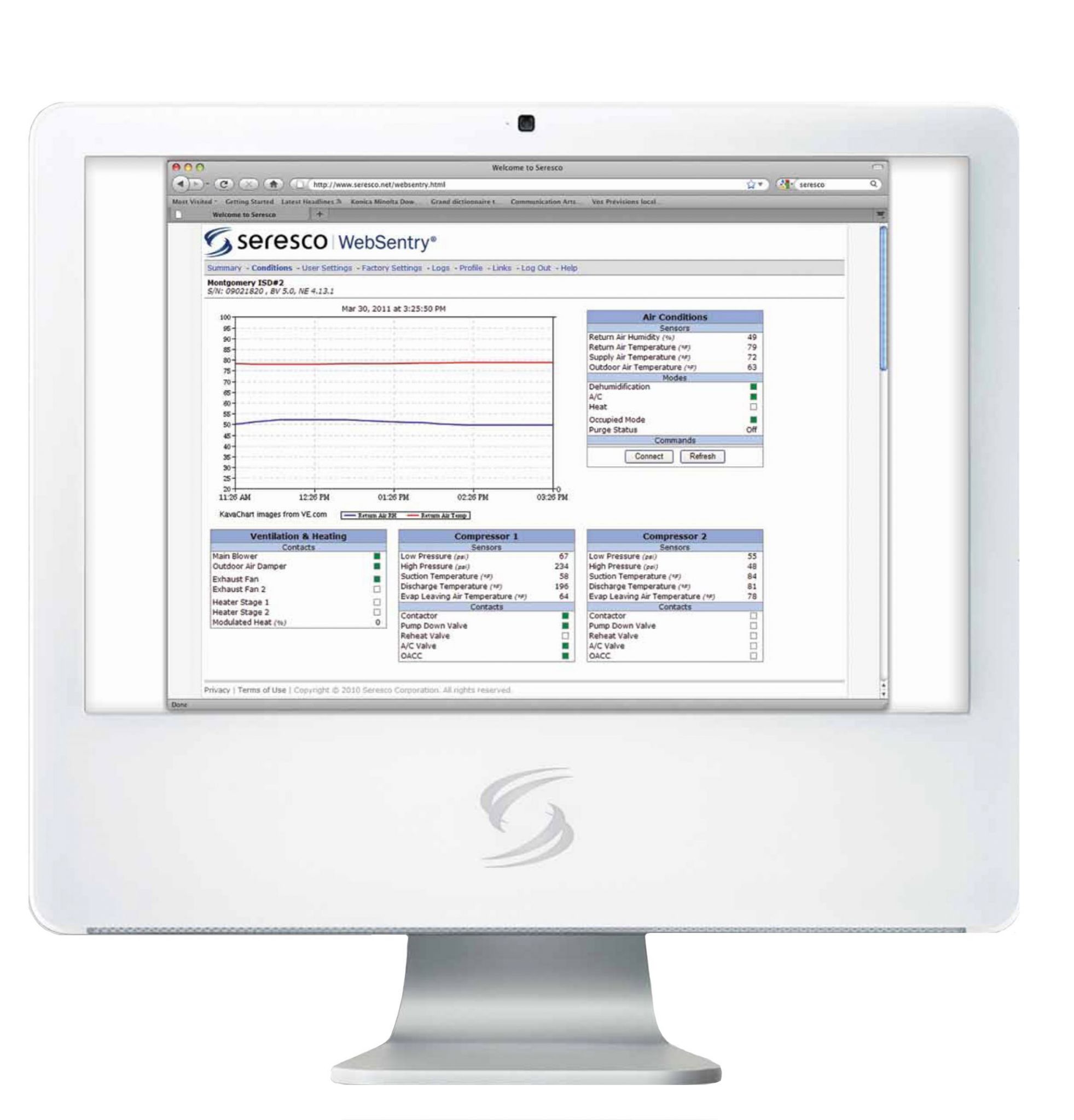 Advantages of reduced-refrigerant dehumidifiers
The refrigerant circuit of a dehumidifier that uses glycol as a heat-rejection transfer fluid is not only compact, but also factory-charged and sealed. This eliminates the expense of onsite refrigeration work by certified technicians. In multiple compressor units, the fluid-cooled circuits are combined into a single manifold set of polyvinyl chloride (PVC) pipes to the fluid cooler (dry-cooler).
Additionally, glycol is 95 per cent less expensive than refrigerants. With refrigerant prices and management costs perpetually rising, a system with hundreds of pounds of refrigerant carries considerably more risk liability than a glycol-based system. Glycol systems can also be piped to nearly infinite lengths and height levels only dependent on proper pump-horsepower-sizing and hydraulic design considerations. Conversely, onsite placement of a conventional, all-refrigerant-based, direct-expansion (DX) system's condenser and dehumidifier is extremely limited before significant installation and refrigerant/oil management issues are encountered.
Glycol system installation labour and material costs are considerably less since the required copper line needed for all refrigerant-based circuits can be substituted by a single, less-expensive PVC or chlorinated polyvinyl chloride (CPVC) piping set on glycol systems. Eliminating exterior copper also minimizes exposure to the recent trend of copper theft. Further, problems historically associated with large refrigerant system charges and field-charging are eliminated.
Saving the environment in Côte-Saint-Luc
In addition to lowered operating costs, these reduced refrigerant benefits attracted city officials of Côte-Saint-Luc, Que., for their 4180-m2 (45,000-sf) facility. The city's $18-million Aquatic and Community Centre employs a 152-m (500-ft) deep geothermal field, heat recovery on the energy-rich exhaust air that is used for preheating outside air, and the pool-water-heating option that provides free heating from energy recovered from the dehumidifier's compressor waste heat.
The energy design concepts used by Laval-based design/build engineering firm, Kolostat, ensured the facility surpasses many national energy efficiency code requirements, according to Stéphane Maccabée, P.Eng., project manager. Maccabée led the Kolostat team with Michel St. Pierre, PT, LEED AP (estimator/designer), and Daniel Robert, P.Eng., (vice-president, engineering).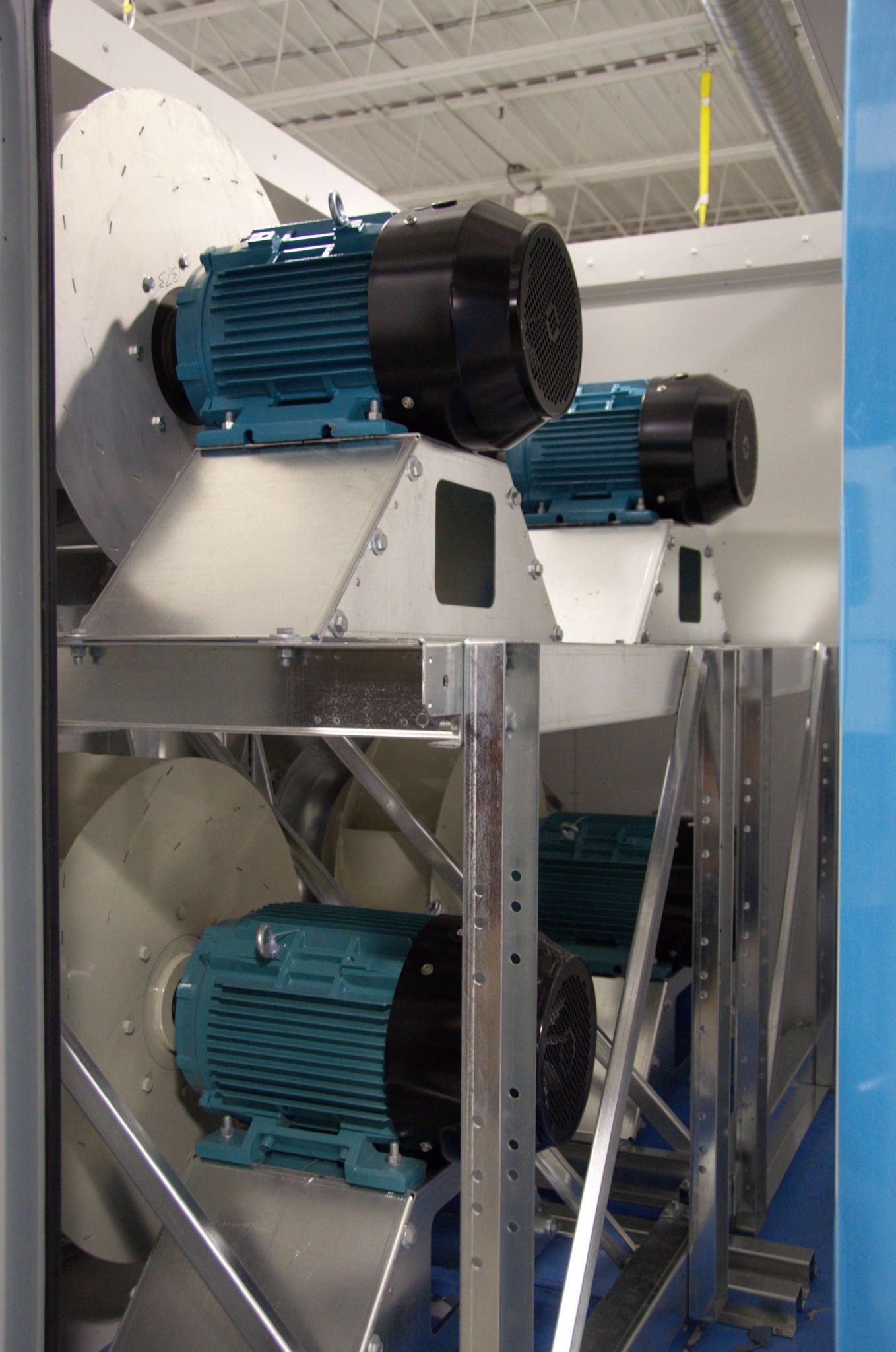 Kolostat's design was also co-ordinated with a joint-architect venture between two Montréal firms—Rubin & Rotman Associates and Martin Marcotte/Beinhaker Architects—along with general contractor, Pomerleau (St. Georges, Que.) and The Master Group (Boucherville, Que.), a manufacturer's representative for a natatorium dehumidifier manufacturer.
While geothermal and heat recovery technologies are not new concepts, the city's quest for 80 per cent less refrigerant in the dehumidifier differentiates the facility from nearly every other natatorium in Canada.
Improving breathing conditions in indoor pools
Refrigerant equipment leaks are environmental considerations, but the bigger air quality in natatoriums comes from chemical offgassing from the pool. 'Lifeguard lung' is an illness some occupants might experience from breathing chloramines for extended periods. As the name suggests, lifeguards are most likely to be afflicted.
Facilities with good ventilation, temperature, and RH control are not immune. Chlorine molecules attach to ammonia and other organic molecules introduced by swimmers, forming chloramines. Some of these offgas and congregate at the pool water surface, causing respiratory irritations. Further complications arise from natatorium ventilation design strategies that do not effectively get conditioned air from the ventilation system down to breathing zones and the pool deck.
In the United States, a high school district has become the most recent to think outside the box on the subject of IAQ. When planning its new 4645-m2 (50,000-sf) Jenks Trojan Center (JTAC) in Oklahoma, the school chose a dehumidifier offering heat recovery, free pool-water-heating, and other energy conservation options; project engineers and architects also paid close attention to getting the supply air down to the 'breathing zone' of swimmers and deck occupants.
Supplementing the JTAC dehumidification and ventilation design strategies is a newly developed source-capture/exhaust plenum-type device that draws chloramines directly off the water surface. The device is integrated into the perimeter pool gutter system or deck-mounted. The exhaust air contribution from the chloramines-source-capture/exhaust system was incorporated into the dehumidifier and overall ventilation designs.
While it can exhaust independently of the dehumidifiers, the project engineers saved significant equipment costs because the chloramines-source-capture/exhaust system is ducted to fans in the dehumidifier units, which carefully monitor and control the entire building pressurization status and operation via an onboard microprocessor. Equally important is positioning the source-capture/exhaust system at the 53 x 23-m (174 x 75-ft) pool's edge nearest the natatorium's return air grille, which helps draw chloramines toward the evacuation system.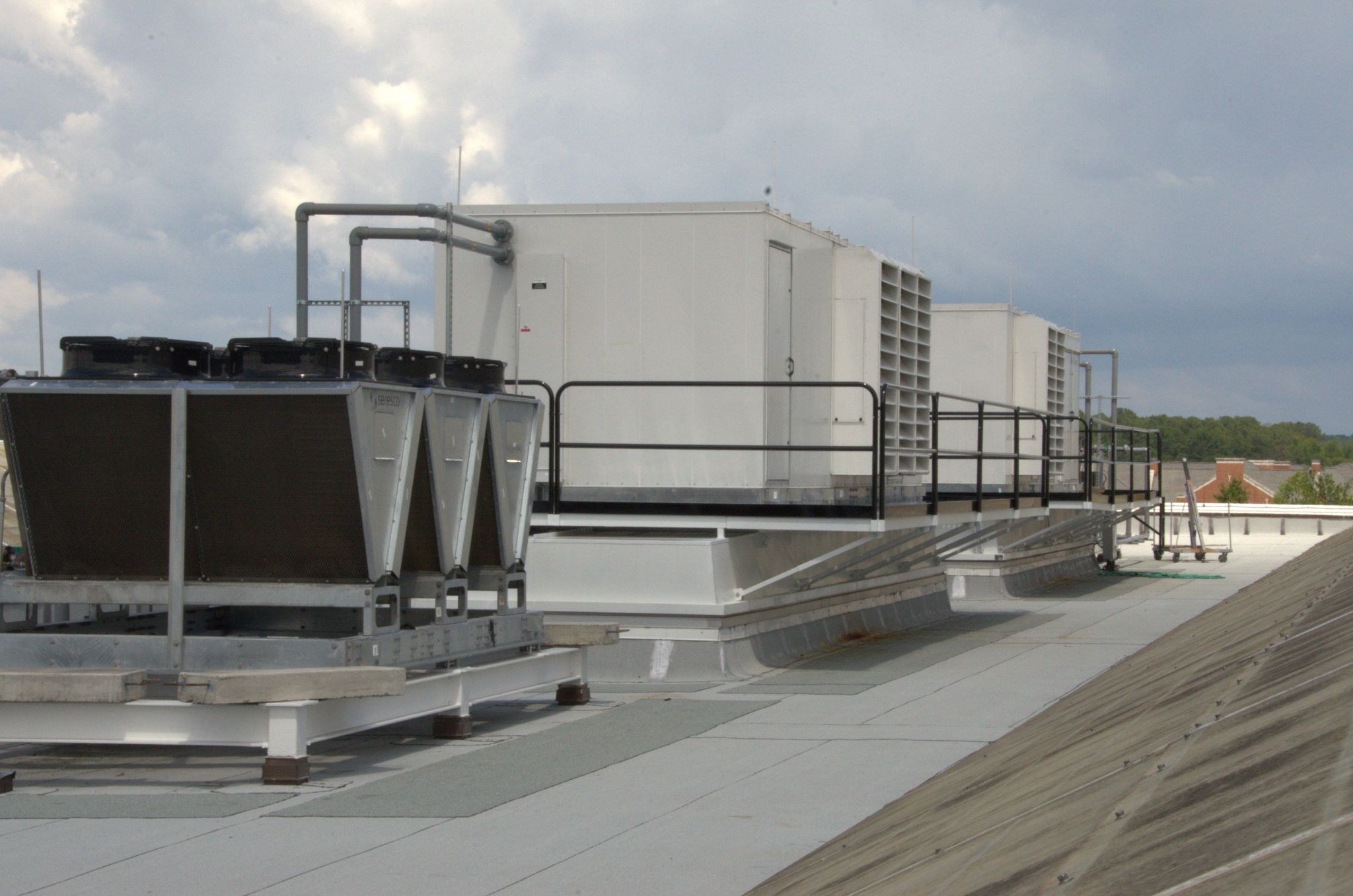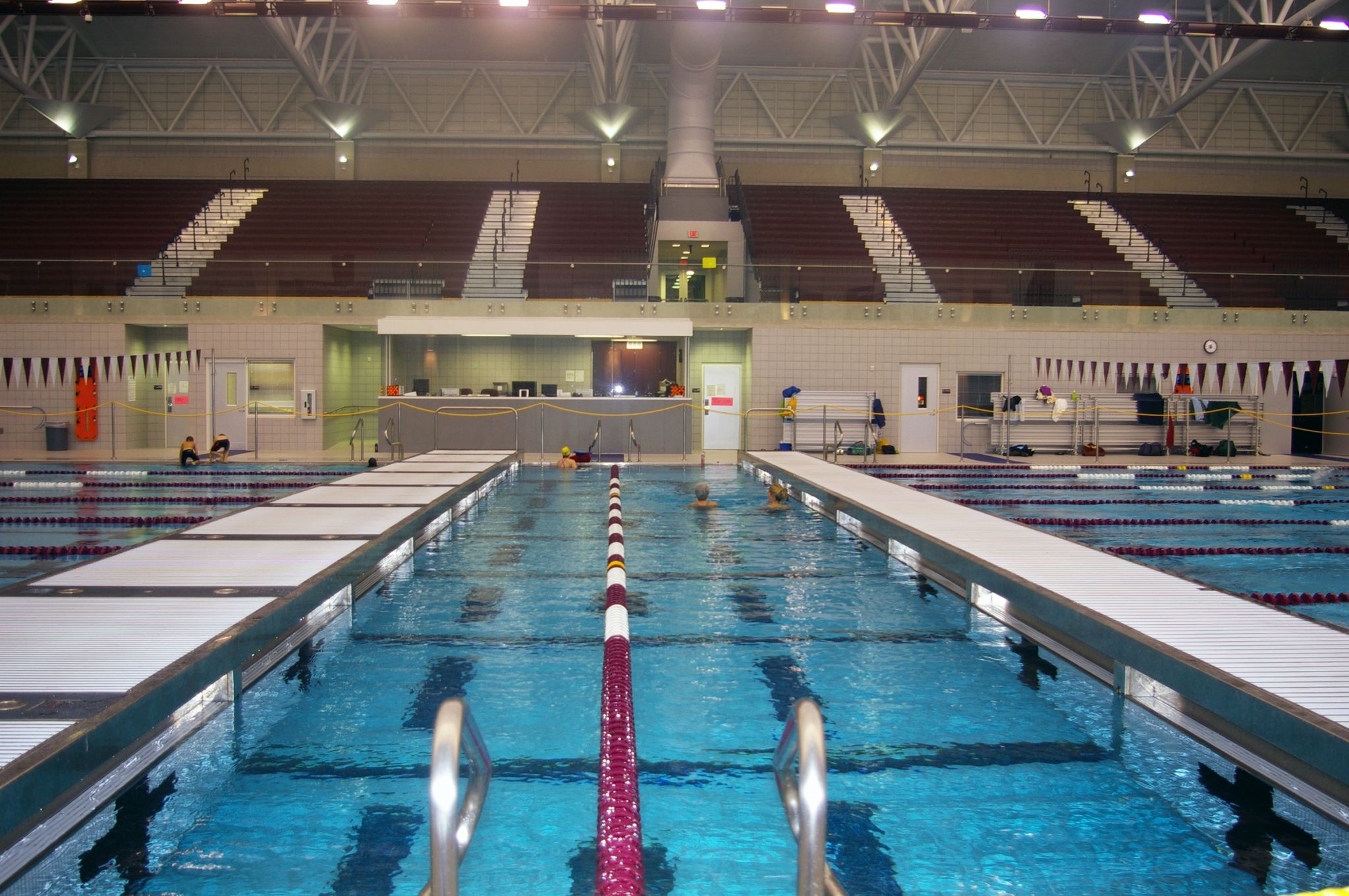 Keeping HVAC equipment running efficiently
State-of-the-art equipment such as the chloramines-exhaust/capture system, heat-recovery dehumidifiers, and ventilation systems help safeguard against potential indoor air quality problems. However, this equipment is most effective when it is regularly monitored and calibrated. Like an automobile, these systems can gradually drift away from factory settings or develop routine wear-and-tear service needs based on site conditions. Natatoriums are particularly challenging because there are so many parameters involved in their efficient operation.
At Jenks, for example, there are a multitude of parameters to keep in check via monitoring such as:
maintaining the space and pool water at the strategic differential of 28 C and 27 C (82 and 80 F), respectively;
dehumidifying to 55 per cent RH;
overseeing building pressures so the supply air and exhaust/capture system work in synergy;
monitoring energy saving direct drive plenum fans with variable frequency drive control and a host of other critical factors that can only be calibrated for peak efficiency via computer.
Pool operators and HVAC service technicians almost need a degree in pool design to properly manage all these parameters. Therefore, the facility is outfitted with a command centre for indoor air comfort and system operation, and a factory-based 24/7 remote monitoring/control service.
The monitoring and control service communicates with each unit's command centre via the Internet every minute. This allows factory, or authorized service, technicians to monitor and control more than 100 operating parameters, including real-time refrigerant operating pressures.
Unit operation is continuously monitored by the factory and can highlight operating trends, detect efficiency changes, or predict component failures that might affect the natatorium's HVAC conditions. In the event of a performance alarm, the unit sends notifying emails to authorized JTAC employees. The vital statistics, and especially recorded trending information, gives factory technicians enough details to help troubleshoot and support local HVAC service technicians on any issue arising.
Conclusion
Chloramine source-capture, Internet-based factory monitoring, reduced and factory-sealed refrigerant charges, and direct-drive fans are a breath of fresh air for the pool design and operations industries. These important technological advancements in dehumidifier design over the last decade have given natatorium managers and future owners the tools they need to provide and maintain a much better overall environment for their patrons while also reducing facility operating and maintenance costs.
Ralph Kittler, PE, is a co-founder and vice president of sales/marketing at Seresco Technologies, an Ottawa-based manufacturer of conventional and reduced-refrigerant natatorium dehumidifiers. He has 23 years of experience in the HVAC industry and a degree in mechanical engineering from Lakehead University (Thunder Bay, Ont.). Kittler is an American Society of Heating, Refrigerating, and Air-conditioning Engineers (ASHRAE) Distinguished Lecturer. He sits on the association's Technical Committee 9.10, where he is the reviser responsible for Chapter 25 ("Mechanical Dehumidifiers and Related Equipment") for ASHRAE's 2012 Systems and Equipment Handbook and on Technical Committee 9.8 for Chapter 5 ("Natatorium Design in [Large-building Air-conditioning Applications]") for the Applications Design Handbook. Kittler can be reached via e-mail at ralphkittler@serescohumidifiers.com.

Control the content you see on ConstructionCanada.net!
Learn More.