Specifying fire-resistant materials is only part of the strategy
November 5, 2021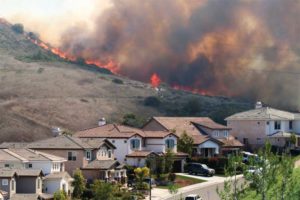 [1]By Rick Roos
Wildfires are making headlines in Canada with increasing frequency. They are a frightening reminder about the impact of climate change. The Fort McMurray, Alta. wildfire in May 2016 prompted the most expensive natural disaster in Canadian history, though these reports of wildfires are no longer isolated incidents. The summer of 2021 saw significant destruction from wildfires in British Columbia, Saskatchewan, Manitoba, and Ontario, with the number of fires and area burned both well above average. Canadian armed services and international fire fighting personnel were mobilized to support local crews. The long-term prognosis is grim as experts forecast more of the same in coming years. And yet, building in Wildland-Urban Interface (WUI) zones continues at an accelerated pace.
WUI zones[2] are the areas of transition between unoccupied land and human development; where structures and other human development meet or intermingle with undeveloped wildland or vegetative fuels. Communities adjacent to and surrounded by wildland are at varying degrees of risk from wildfires. WUI zones are not limited to densely forested areas; they can just as easily be inhabited areas close to brush or grassland. Dry, hot, and windy conditions—together with an ignition source—increase the risk of fire quickly spreading in any WUI zone.
In Canada, WUI zone regions are harder to identify than in the U.S., though it is estimated there are more than 32 million hectares (75 million acres) of WUI areas and 60 per cent of all cities, towns, settlements, and reservations across Canada have a significant amount of these areas.
Why are people still building, and rebuilding in WUI zones? Primarily for affordability. WUI zones continue to expand because of ongoing population growth and urban sprawl, driving significant housing development into environments in which fire is prone to move readily from forests and grasslands into neighbourhoods. There are also many who move to these picturesque locales for the privacy, natural beauty, and desire for active outdoor living.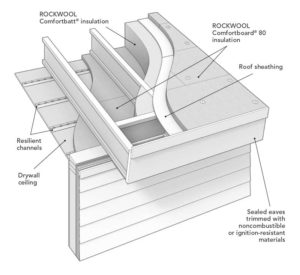 Do not rely on codes to reach a higher standard of fire resilience
But homes in WUI areas must be built to a higher standard of fire resilience to increase odds of preserving structures and to provide occupants additional time to find safety. However, the means to achieve that resilience at times can be unclear. Often, the focus is placed on materials alone, with the thought that if noncombustible outer materials are selected, the rest of the home is protected. That said, fire protection is much more complicated than that.
What does code say? Building codes are often geared toward offering a minimal amount of fire protection. They outline the basic requirements a home must meet to be up to code, such as the types of materials that can be used, the assemblies that are preferred, and the minimum ASTM criteria that materials must meet.
National Research Council (NRC) Canada published a new guide for WUI zones in July 2021. Section 3.3 is useful, but vague on what is meant by 'cladding.' The author is a proponent of making continuous insulation a standard component within cladding systems; a fire-resistant assembly should include a water-resistive barrier as well as a noncombustible continuous insulation product, like stone wool rigid insulation boards, to protect vulnerable components.
The bottom line: codes are not enough; building or rebuilding a home with the greatest possible fire resilience is voluntary.
Take a holistic approach
Specifying fire-resistant materials for the building envelope is a good place to start. But best practices today demand more, include considering fire safety at the start of the design process—it cannot be an afterthought—and taking a holistic approach to building in WUI zones.
What does that look like? The author recommends to architects and builders they think differently about the house design, especially if they are rebuilding after a fire. How can one design a better building to provide a greater opportunity to stop fire from penetrating the structure and, in the worst-case scenario, buy additional time for occupants to get to safety? It requires, in part, understanding how it is homes catch fire. Then, it is important to look at materials to determine whether they are combustible or noncombustible, whether they are ignition resistant or fire resistant, and whether they have a tendency to support flame-propagation across its surface. Then, the next step is a challenging one: taking this information into account while designing fire-resistant assemblies.
NRC's new WUI guide also provides great insight about WUI fire characteristics and hazards associated with them. For example, "the descent and landing of burning embers downwind, ahead of a burning fire, is referred to as spotting or, in the case of the WUI, ember rain[4]." Since embers from wildfires fall, one should start by looking at the roof assembly, then walls, any exterior structures, and then out to the landscaping around the home.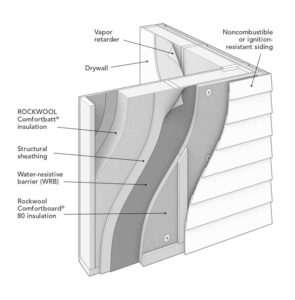 Roofs
A fire-resistant roof assembly includes not just the surface product, but also the underlayment, sheathing, insulation, joists, and other components that go into a roof system. ASTM E108 Class A-rated surfaces like clay, concrete, slate, and many types of asphalt or metal are good selections, but builders also need to consider components beneath the surface material. Noncombustible roof boards can improve the roof assembly's fire resistance, for example. There are other noncombustible options, including several stone wool insulation products. Builders should look for products with a low flame-spread index and smoke-developed index, which can improve a roof assembly's ability to withstand conditions during a wildfire.
Other measures for creating a fire-resilient roof assembly include:
• Eaves—they should be sealed, and valleys should be covered by an ASTM E108 Class A material to prevent embers from igniting the roof.
• When gaps exist within a roof system, the space at the eave ends should be filled to prevent ember and flame entry.
• Vents—these should be covered with 3.2 mm (0.125-in.) mesh to prevent embers from getting into the house.
• It is also important to use ignition-resistant or noncombustible materials like metal and fibre cement for the soffit and fascia to further protect the eaves.
Walls
Section 3.3.2.8 of the NRC guide addresses cladding material selection for exterior walls; it stipulates:
Except as described in Sentence (9), exterior wall assemblies on buildings in Construction Classes CC1 and CC2 should:
a) be clad with masonry or concrete having a thickness not less than 25 mm (1 in.), or
b) meet the recommended acceptance criteria stated in Table 9 when tested using ASTM E2707, Standard Test Method for Determining Fire Penetration of Exterior Wall Assemblies
But similarly for wall design, noncombustible cladding will only go so far; all components of the wall assembly need to be considered as the strength of the assembly is determined by the combination of materials that make it up. Vinyl siding does not provide a lot of protection, nor is it the problem when it comes to fire-prone assemblies. Vinyl typically does not burn. It tends to melt and fall away from the structure. It is the materials behind the vinyl siding that can either make or break the system.
One way to do this is with a product like exterior stone wool continuous exterior insulation in the building envelope. This approach not only increases fire resistance but mitigates thermal bridging for a more efficient wall assembly, thereby meeting increasing energy efficiency standards. In this example, this wood-framed assembly has been rated with a one-hour fire resistance rating due to its incorporation of stone wool products. Here, the rigid insulation boards are fastened with structural screws on top of the water-resistive barrier, insulating and providing enhanced fire resistance to the exterior of the wall, while stone wool batts are friction-fit in the interior cavities of the framing. While dynamics are different between fibre cement and vinyl siding as vinyl does not provide any protection, the lesson is the same—it is what is behind the cladding that will make or break the assembly.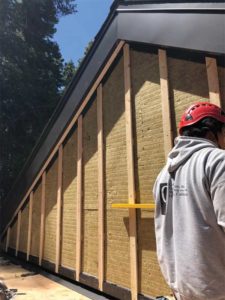 [6] Other considerations
It is also important to include windows, doors, decks, and landscape design in the plan for fire-resistant building.
• Windows and all other glazing should be fire rated or feature multiple panes with at least one layer of tempered glass.
• Doors should be fire rated.
• Decks can use wood frames, but they should be finished with a fire-resistant material that extends to within 152 mm (6 in.) of the ground. Cantilevers and other overhangs should be constructed and finished with non-combustible materials. It is also good practice to ensure combustible materials are not stored underneath decks.
• Outbuildings, fences, and other outdoor structures are often permitted to be built with any material but is it a good idea to build using non-combustible materials wherever possible. They should also be kept a safe distance away from the house (that distance will vary regionally by code) so flames do not spread to the home should they ignite.
• Landscape design is important, too. Homes should have a non-combustible area within 1.5 m (5 ft) of the home's perimeter. This means no structures, combustible vegetation, or wood mulch against the home that could ignite and spread flames to the home itself. Materials such as gravel, brick, concrete, and stone are good options for non-combustible landscape features that can be used around the home's perimeter.
• Trees should be spaced to avoid spreading fire to each other or to the home, and at least 3 m (10 ft) away from the home. These distances will vary by region, but for example: within 3 to 9 m (30 ft) of the home, trees should be spaced 5.5 m (18 ft) apart. Between 9 and 18 m (60 ft) of the home, trees can be spaced 3.6 m (12 ft) apart, and between 18 m and 30.5 m (100 ft) of the home, trees can be spaced 2 m (6 ft) apart.
• Fuel breaks can and should be included as landscape features. This includes non-combustible details like concrete driveways, sidewalks, patios, and dry streams, each of which can help prevent the spread of flames.
Fire-resistant materials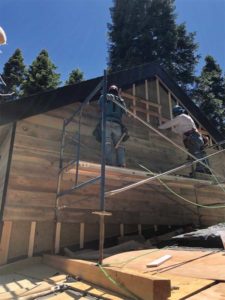 Now it is time to discuss the fire-resilient materials in a little more detail. When it comes to the building envelope, stone wool insulation is an ideal material in these fire-safe assemblies; it limits the spread of fire, does not transfer heat from the outside to the inside of the building, and will not contribute to smoke development with added design flexibility for ASTM E2707 assemblies, including unlimited insulation thickness to meet increasingly stringent thermal requirements. Additional features and benefits of stone wool insulation include:
• Moisture resistivity when exposed to water, while allowing vapour to pass through the assembly for superior drying capabilities.
• Dimensional stability avoids (prevents) gaps to maintain reliable thermal and mechanical property performance over time.
• Chemically inert and non-corrosive with no off-gassing, and is resistant to rot, mould, and fungi.
• Superior performance in areas with a high probability of termites.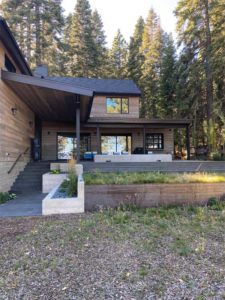 What about retrofits?
In some areas, it is not the new homes that are most threatened, but those built before codes were enacted or strengthened in their neighbourhood. This separation between new and existing homes causes difficulties for regulators. For example, if a home has a wood shake roof, it is challenging for regulators to ask for a retrofit. Homeowners may not have the resources or inclination to replace the roof with something that has a lesser tendency to spread flame. Insurance companies may become a more powerful driving force by asking homeowners to make fire-resistant upgrades to maintain coverage, but for now, the onus is on homeowners to make upgrades themselves—and on builders to recommend products and assemblies that can increase a home's overall fire resistance.
This is the overriding message about building in WUI zones. Meeting code is not enough. Building for better fire resilience is voluntary. But as the built community works to improve awareness and understanding of best practices it moves closer to making this holistic and 'top down' approach to the new normal.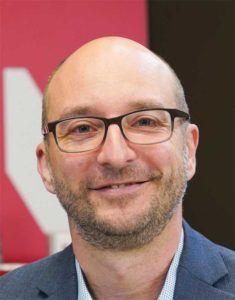 [9]Rick Roos uses his expertise in fire safety, hygrothermal building performance, and acoustic control to bring a holistic approach to codes and standards development. As senior manager, codes, standards, and fire safety at Rockwool he works within the codes development process in the International Code Council (ICC) and Codes Canada. This role is complemented by his active membership across other industry organizations, including ASTM committee C16 on Thermal Insulation, ASTM E05 Fire Standards as associate member of CAN/ULC S700 Thermal Performance and Energy Use in the Built Environment, and as member of CANULC S100A committee on Fire Tests.
Endnotes:
[Image]: https://www.constructioncanada.net/wp-content/uploads/2021/11/20190731-RWNA-PHO-800.jpg
WUI zones: http://www.firesmartcanada.ca/faqs
[Image]: https://www.constructioncanada.net/wp-content/uploads/2021/11/Rockwool-roof-assembly.jpg
ember rain: http://nrc-publications.canada.ca/eng/view/ft/?id=3a0b337f-f980-418f-8ad8-6045d1abc3b3.
[Image]: https://www.constructioncanada.net/wp-content/uploads/2021/11/Rockwool-wall-assembly.jpg
[Image]: https://www.constructioncanada.net/wp-content/uploads/2021/11/photo-2-California-install.jpg
[Image]: https://www.constructioncanada.net/wp-content/uploads/2021/11/IMG_9222.jpg
[Image]: https://www.constructioncanada.net/wp-content/uploads/2021/11/exterior-2.jpg
[Image]: https://www.constructioncanada.net/wp-content/uploads/2021/11/Roos_Headshot.jpg
Source URL: https://www.constructioncanada.net/specifying-fire-resistant-materials-is-only-part-of-the-strategy/
---