Take a holistic approach
Specifying fire-resistant materials for the building envelope is a good place to start. But best practices today demand more, include considering fire safety at the start of the design process—it cannot be an afterthought—and taking a holistic approach to building in WUI zones.
What does that look like? The author recommends to architects and builders they think differently about the house design, especially if they are rebuilding after a fire. How can one design a better building to provide a greater opportunity to stop fire from penetrating the structure and, in the worst-case scenario, buy additional time for occupants to get to safety? It requires, in part, understanding how it is homes catch fire. Then, it is important to look at materials to determine whether they are combustible or noncombustible, whether they are ignition resistant or fire resistant, and whether they have a tendency to support flame-propagation across its surface. Then, the next step is a challenging one: taking this information into account while designing fire-resistant assemblies.
NRC's new WUI guide also provides great insight about WUI fire characteristics and hazards associated with them. For example, "the descent and landing of burning embers downwind, ahead of a burning fire, is referred to as spotting or, in the case of the WUI, ember rain." Since embers from wildfires fall, one should start by looking at the roof assembly, then walls, any exterior structures, and then out to the landscaping around the home.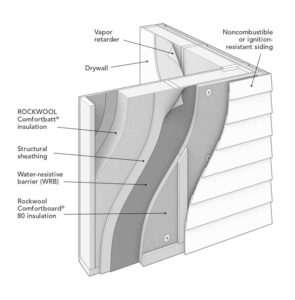 Roofs
A fire-resistant roof assembly includes not just the surface product, but also the underlayment, sheathing, insulation, joists, and other components that go into a roof system. ASTM E108 Class A-rated surfaces like clay, concrete, slate, and many types of asphalt or metal are good selections, but builders also need to consider components beneath the surface material. Noncombustible roof boards can improve the roof assembly's fire resistance, for example. There are other noncombustible options, including several stone wool insulation products. Builders should look for products with a low flame-spread index and smoke-developed index, which can improve a roof assembly's ability to withstand conditions during a wildfire.
Other measures for creating a fire-resilient roof assembly include:
• Eaves—they should be sealed, and valleys should be covered by an ASTM E108 Class A material to prevent embers from igniting the roof.
• When gaps exist within a roof system, the space at the eave ends should be filled to prevent ember and flame entry.
• Vents—these should be covered with 3.2 mm (0.125-in.) mesh to prevent embers from getting into the house.
• It is also important to use ignition-resistant or noncombustible materials like metal and fibre cement for the soffit and fascia to further protect the eaves.
Walls
Section 3.3.2.8 of the NRC guide addresses cladding material selection for exterior walls; it stipulates:
Except as described in Sentence (9), exterior wall assemblies on buildings in Construction Classes CC1 and CC2 should:
a) be clad with masonry or concrete having a thickness not less than 25 mm (1 in.), or
b) meet the recommended acceptance criteria stated in Table 9 when tested using ASTM E2707, Standard Test Method for Determining Fire Penetration of Exterior Wall Assemblies
But similarly for wall design, noncombustible cladding will only go so far; all components of the wall assembly need to be considered as the strength of the assembly is determined by the combination of materials that make it up. Vinyl siding does not provide a lot of protection, nor is it the problem when it comes to fire-prone assemblies. Vinyl typically does not burn. It tends to melt and fall away from the structure. It is the materials behind the vinyl siding that can either make or break the system.

Control the content you see on ConstructionCanada.net!
Learn More.