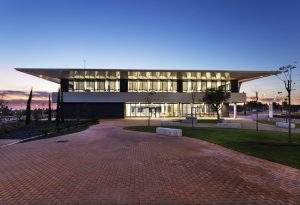 Designed by international architecture firm Luis vidal + architects, the 28,986-m2 (312,000-sf) Loyola University campus, Seville, Spain, was awarded a Leadership in Energy and Environmental Design (LEED) Platinum certification. It is the world's first integrated campus to receive this rating.
The multipurpose facility, designed to accommodate numerous aspects of learning and university life, also aims to be the first '5G Campus' in the world.
The architecture firm initially carried out a detailed analysis of the site. Given the Mediterranean climate in Seville, where it often reaches high temperatures, special attention was paid to controlling sunlight.
The project used the lessons learned in T2 at Heathrow Airport in the United Kingdom, and incorporated textile technology—the design of an external element, 'the candle,' which controls the light penetrating the buildings. "The campus also consists of a sequence of open and closed spaces, designed to provide self-shading," said Luis Vidal, president of Luis vidal + architects.
For the $29 million higher education project, all the classrooms, laboratories, and common spaces, totaling over 24,619 m2 (265,000 sf), are in a single, optimized building. The sports building, library, lockers, access building, and chapel complete the complex, totaling over 4366 m2 (47,000 sf) of additional space.
The campus' roof, façades, and windows were designed to minimize sizable energy losses. The design team also installed photovoltaic (PV) panels to reduce the net-energy consumption of the building which utilizes around 40 per cent less heat than buildings meeting current regulations. The design also incorporates a water recovery system.
Materials for the project were carefully sourced and included recycled content, regional materials, and those of renewable origin. More than 20 per cent of the building materials come from previous uses, and more than 30 per cent of the materials were locally extracted from the surrounding area, avoiding (or reducing) the environmental damages inherent in transporting materials. Renewable materials used for the build included bamboo and other natural resources.
Vidal noted the design was equally inspired by local architecture and regional culture, including the squares and patios of the historic communities of Andalusia.