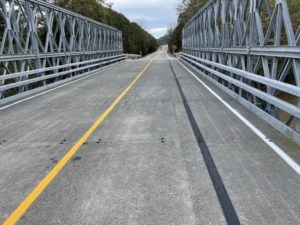 A modular steel bridge recently opened to carry traffic over Kettle Creek in the Township of Southwold, Ontario.
Acrow, an international bridge engineering and supply company, installed the structure as a permanent replacement for a deficient bridge in the township. The new bridge previously served for three years as a temporary replacement for another damaged bridge some 30 km (19 mi) away in Port Bruce.
Acrow was awarded the contract to design and supply a modular steel structure to provide a detour downstream, after the previous bridge collapsed due to some heavy rains and the weight of a loaded dump truck.
Assembled and installed in six weeks, the single-lane bridge was 55 m (180 ft) long and 5.5 m (18 ft) wide, with an epoxy aggregate deck and a CL-625 ONT Truck load rating. It was purchased by Elgin County, which anticipated a need for its reuse at a later date.
As the Port Bruce bridge rebuild neared completion, Elgin County decided to repurpose the modular structure for permanent replacement of the 120-year-old Meeks steel truss bridge, which had multiple structural deficiencies.
After the bridge was dismantled, it was reconfigured and transported to the Meeks Bridge location for assembly and launching. For the permanent application, the bridge was shortened, widened to two lanes, and a full highway guard rail system was added.