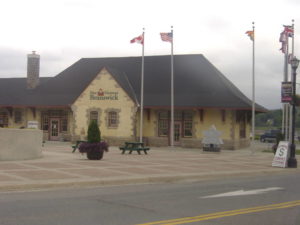 Three municipalities in southwestern New Brunswick have obtained government funding for sustainable, community-focused infrastructure projects.
A provincial and federal investment of more than $986,000 will be divided between initiatives in St. Stephen, Blacks Harbour, and St. George.
The three projects are as follows:
Town of St. Stephen: Upgrades to the downtown square to support outdoor spaces.
Blacks Harbour: To create an accessible and green outdoor community space.
St. George: To build a section of the Coastal Link Trail.
The provincial government is providing $533,000 through the Regional Development Corporation and the Department of Tourism, Heritage and Culture. The federal government's Atlantic Canada Opportunities Agency (ACOA) is providing $453,061 through the Canada Community Revitalization Fund.
"The Government of Canada, through ACOA, is committed to working closely with communities to support projects that contribute to the quality of life of the families who live there," says Saint John MP Wayne Long. "We believe investing in strategic infrastructure projects is key to helping create new opportunities and strengthen regional economies."