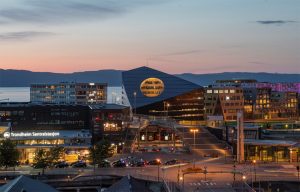 International architecture firm Snøhetta has completed Powerhouse Brattørkaia, the world's northernmost energy-positive building.
The 18,000-m2 (193,750-sf) office building is located in Trondheim, Norway, 63 degrees north of the equator, where sunlight varies greatly between the seasons. This presented an opportunity to explore the harvesting and storing of solar energy under challenging conditions.
The waterfront façade is the slimmest face of the building and is clad with black aluminum and solar panels.
On average, Powerhouse Brattørkaia produces more than twice as much electricity as it consumes daily, and will supply renewable energy to itself, neighbouring buildings, electric buses, cars, and boats through a local microgrid.
The building's site ensures maximum exposure to the sun throughout the day and seasons. Its skewed, pentagonal roof and the upper part of the façade is clad with nearly 3000 m2 (32,292 sf) of solar panels, strategically placed to harvest as much energy as possible. In effect, the building functions as a small power plant in the middle of the city. Space has been built into the building footprint to store surplus energy in the summer months that can then be used in the winter when daylight is at a minimum.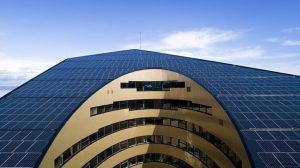 The building leverages a series of technologies to reduce energy use for daily operations. This is accomplished through insulating the building for maximum efficiency and installing intelligent solutions for airflow to reduce the need for heating. Daylight conditions are optimized throughout the building design and artificial light use is kept at a minimum.
The sloping roof of the building reveals a cutout in the centre of its plan that allows daylight to flow into the office spaces. Within this illuminated core is an atrium functioning as a public garden with horizontal glass windows on the sides providing skylight into the canteen below. This skewed lightwell allows daylight to enter the building on every floor. The atrium also limits the amount of artificial light needed inside the facility.
Further, the building's structural system consists of low-emissivity (low-e) concrete. It absorbs and retains heat and cold and helps regulate the temperature in the building without using electricity.
Powerhouse Brattørkaia has received the Building Research Establishment Environmental Assessment Method (BREEAM) Outstanding certification, the highest possible ranking by the world's leading sustainability assessment method for an asset's environmental, social, and economic sustainability performance.