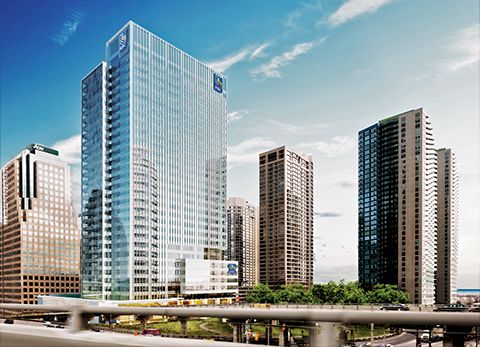 By William R MacGowan, P.Eng., CEM
In the late 1800s, this author's great grandfather, Warren Y. Soper, collaborated with Thomas Ahearn to find a better way of living for those in Ottawa. Like others in the growing city, they were tired of using wood, coal, and gas for the purposes of heating, cooking, and lighting. Thomas Edison, south of the border, had caught their attention. After much back and forth discussion regarding the new value of electricity and electrical generation, they had him ship a water-wheel generator, which was installed and commissioned at the base of Rideau River Falls.
From that moment, things changed for the citizens of the nation's capital. The flipping of the switch led to the formation and operation of the Ottawa Lighting and Power Company, Ottawa Telephone Company, and Ottawa Street Railway. For buildings, it was also transformative. This new source of clean power ushered in the elevator and air-conditioning. These technologies accelerated the growth and adoption of high-rise commercial building stock around the globe.
Looking back over the last 60 to 70 years, however, there has been little that has truly changed the design, construction, and operations of commercial real estate. Now, Oxford Properties' RBC WaterPark Place III might serve as another game-changer, thanks to its embrace of smart information technology (IT) and use of Power over Ethernet (PoE).
The power of PoE
Located in downtown Toronto, along Queens Quay on Lake Ontario, the 31-floor RBC WaterPark Place III encompasses some 80,625 m2 (867,865 sf). Certified Platinum under the Leadership in Energy and Environmental Design: Core and Shell (LEED CS) program, the tower leverages the next jump in technology driven by three key factors:
network convergence (i.e. multiple communication modes such as telephone, video data, and facility systems [e.g. lighting, HVAC, security, and energy metering] running off a single network);
the rise of high-speed Internet; and
distribution of direct current (DC)—versus alternating current (AC)—electrical power along with data through Ethernet cabling. Power options include PoE (15 watts), PoE+ (30 watts), and UPoE (60 watts).
WaterPark Place III is the first building in the Americas to deliver both primary electrical power and communication over an open-standard IT smart structured Category 6 Ethernet cabling infrastructure. Leveraging low-voltage IT structured cabling solutions versus traditional line-voltage electrical distribution wiring schemes positively impacts both capital and operating expenditure budgets. It does this by underpinning this technology leap with two crucial, modern concepts.
The first is the Internet of Things (IoT)—the intelligent connectivity of machines or other physical devices, driving massive gains in efficiency, business growth, and quality of life. This can be something as simple as videoconferencing, using your car's navigation system, or controlling your home's lighting or security system through a smartphone.
The second concept behind Waterpark Place III is the logical extension of the first, the Internet of Everything (IoE). This is the melding of mobility, Big Data and Analytics, social, and Cloud technologies together with the more than 50 billion devices coming online to not only sense and control the physical world, but also to capture intelligence and allow people to gain insights and improve processes, efficiencies, and productivity. For example, a smart home can make intuitive decisions to turn off the lights or turn up the heat by analyzing use patterns.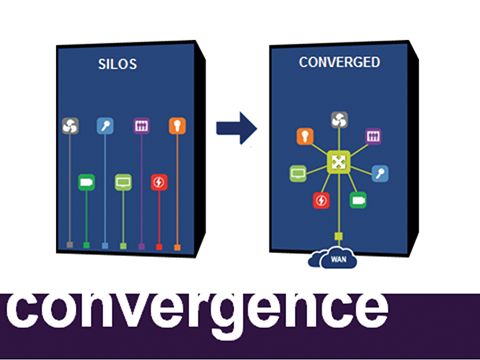 Traditional line-voltage systems have been moved from the base building's electrical room to its information technology (IT) room. It leverages PoE (15 watts), PoE+ (30 watts), and UPoE (60 watts) at 48-volt DC for products, including building automation system (BAS) components such as:
variable air volume (VAV) controllers (i.e. the thermostat);
closed-circuit television (CCTV) security cameras;
door locks; and
light-emitting diode (LED) luminaires.
The trend in edge devices/controllers consuming less power has driven the adoption of delivering electrical power to these new edge devices via PoE.
As the new electrical infrastructure, PoE is both transformational and disruptive for the traditional electrical design and construction world. Design scope is moving from the prime mechanical consultants to the prime electrical IT consultants, and installation is moving from line voltage to low-voltage structured cabling trades.
To facilitate these changes, everyone will need to collaborate earlier in the strategy, design, construction, and operations phases of a project. These changes will also give rise to a new design and construction discipline called 'smart building integration,' as the co-operation of mechanical, electrical, and IT systems drive new efficiencies and opportunities.

Control the content you see on ConstructionCanada.net!
Learn More.