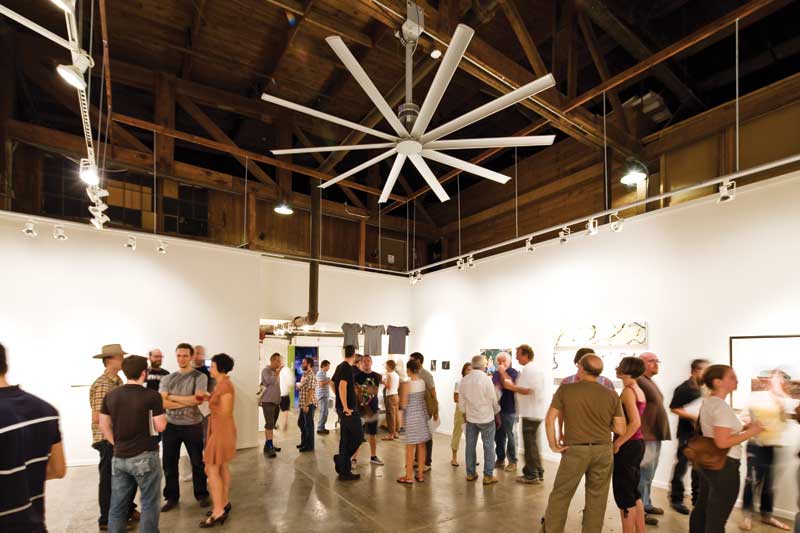 Less is more
Energy efficiency is not the only way HVLS fans can cut costs. Many architects and mechanical engineers have discovered air movement from the fans allows for reduced HVAC capacity and ductwork when integrated into new building designs. This opens up ceiling space as well as budgets, as spaces as diverse as office buildings and Goodlife Fitness facilities have found.
Initially, Goodlife was not looking to reduce ductwork. It installed the fans for year-round client comfort and energy efficiency, until eventually they became a signature element throughout its facilities. However, at one location in Edmonton, the company decided to try something different. As the fans do the ductwork's job of getting cool air to the user, and are present regardless, Goodlife considered the question: why not eliminate the ductwork and see what happens? The company used a concentric step-down diffuser from the rooftop units and relied on fans to move that air around.
Doing this satisfied the design team, which liked the new, less cluttered look of the ceiling. Comfort and cost savings also improved.
"The fans have been very effective," said Markle. "We haven't had any complaints."
Since that first club, Goodlife has used the same approach in several other locations.
Efficiency standards: Change is on the way
From the days of the first electric fans, manufacturers have made efficiency claims about their fans, but for more than 100 years, there was no widely accepted standard to support those claims.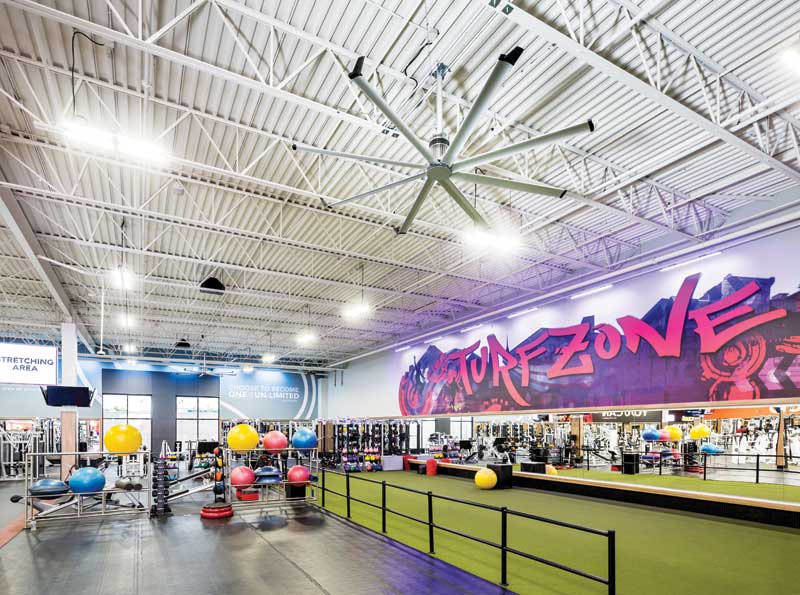 It was not until 1999 that the Air Movement and Control Association (AMCA) introduced AMCA 230-99,
Laboratory Methods of Testing Air Circulating Fans for Rating and Certification, which set more uniform requirements for testing the performance of circulating fans. However, AMCA 230-99 did not account for the HVLS fans invented around the same time. The main issue was the standard's requirement the ceiling height of the test chamber be three times the diameter of the fan—for a 7-m (24-ft) industrial fan, this would require a testing facility with a 22-m (72-ft) high ceiling.
The emerging HVLS fan industry found itself where the residential ceiling fan industry as a whole had been 100 years before—without a practical standard for measuring performance. Therefore, manufacturers used numerous rating methods and test conditions (often of their own making), or modifications of existing standards, to measure the efficiency and performance of large fans.
In 2015, this situation was corrected. ANSI/AMCA 230-15 provided a means for determining and expressing ceiling fan efficiency and efficacy for both standard and HVLS fans.
Earlier this year, for the first time, the U.S. Department of Energy (DOE) also mandated rules requiring a uniform set of test procedures for measuring HVLS fan performance. These rules—which will likely be coming to Canada within a few years per an agreement by the Regulation Co-operation Council—mean every manufacturer must test its fans in the same way, giving customers the ability to make apples-to-apples performance comparisons between the products based on power and airflow.
The basis of the testing is a slightly modified version of AMCA 230-15, not drastically changed from earlier updates of AMCA 230. Fan companies that fail to use the prescribed test procedures or that publish efficiency data that does not come from those procedures will be subject to fines.
Conclusion
HVLS fans were virtually unheard of 20 years ago. Now the world has discovered their many benefits, from comfort and efficiency to safer, more productive workspaces, and they are being installed every day across the globe. With new rules in place, the industry is set to enter an exciting new phase marked by greater transparency and consumer confidence. This can only lead to even more spaces being outfitted with and reaping the benefits of HVLS fans
Vicky Broadus has a master's degree and 15 years of journalism experience. She writes for Big Ass Solutions, a manufacturer of high-volume, low-speed (HVLS) and other fans. She can be reached via e-mail at vicky.broadus@bigasssolutions.com.

Control the content you see on ConstructionCanada.net!
Learn More.