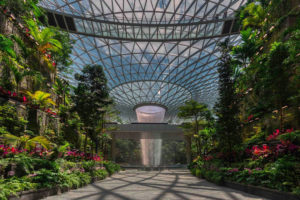 Singapore's hotly anticipated Jewel Changi Airport, featuring the world's tallest indoor waterfall, is officially open.
Highlighted by the waterfall and a translucent, ovoid-shaped gridshell roof spanning 198 m (650 ft), the airport extends the facility beyond a transit hub to include a civic plaza and marketplace. Designed by Safdie Architects, the 135,700-m2 (1.46 million-sf) multi-use complex combines retail, restaurants, a hotel, and expansive indoor garden and leisure facilities.
Weighing 6000 tonnes, Jewel's gridshell comprises more than 9000 glass panels, 40,000 steel beams, and 6000 connecting 'nodes,' which enable a central open oculus forming the 40-m (130-ft) tall 'rain vortex' waterfall.
International firm BuroHappold Engineering used big data to develop Jewel's steel structure and the façade systems for the glass-enclosed gridshell building. The firm's advanced analysis and engineering solutions helped make a nearly column-free interior.
"The complex form of Jewel Changi Airport's iconic outer shell reflects a sophisticated engineering solution that was developed using the most advanced computational methods," says Craig Schwitter, BuroHappold partner. "Unique in its approach, this innovative new structure will reinforce Jewel Changi Airport's position as the world's best, providing an exceptional experience for travelers as well as stunning architectural design."