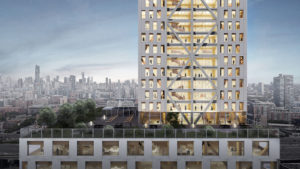 Sidewalk Labs along with a team of architects, engineers, and environmental designers has developed a mass timber proto-model at 35 storeys, a height yet to be achieved in practice.
Called Proto-Model X (PMX), the 43,850-m2 (472,000-sf) building has retail and residential spaces, offices, and integrated building services. Standing at approximately 130-m (426-ft) tall and 30 m (158-ft) wide, the structure uses a cross-brace frame and a tuned mass damper, engineering tactics more typical of super-tall building design.
PMX aims to achieve the Toronto Green Standard (TGS) 3, which sets high energy use targets, according to Gensler, who worked on this project.
Aercoustics, Aspect Structural Engineers, Atelier Ten, JE Dunn Construction, Michael Green Architecture, and RDH were also consulted on this project.
Sidewalk hopes PMX would serve as a valuable proof-of-concept, helping to accelerate interest in mass timber technology. For more information on this design concept, visit www.medium.com/sidewalk-talk.