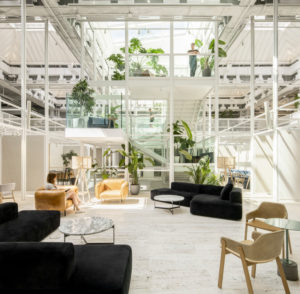 Located in the heart of downtown Montreal, on seven floors of the iconic plaza, Place Ville Marie, Sid Lee Architecture has designed its new headquarters to serve as a vital link to the city with biophilic elements and a configuration engendering open flow of activities.
Spanning over 7284 m2 (78,400 sf), referred to as Biosquare by the architects, the office serves as an inviting biophilic space for workers returning to offices. It has been designed with the workers' needs in mind for a lighter and welcoming office and to revitalize the downtown office and shopping complex, Place Ville Marie.
Pomerleau served as general contractor for the project, while Planifitech Inc. provided electromechanical engineering services and Stantec structural engineering services. In the renovation process of the office space formerly occupied by the Royal Bank of Canada, the original travertine floors were uncovered and enhanced, and the skylights were stripped to reveal their structure, several of which were also strategically enlarged, to maximize views of sky and natural light input.
"We envisioned the space as an extension of the city and its energy," said Jean Pelland, architect and principal partner at Sid Lee Architecture. "By anchoring the architectural elements in human interaction, the campus becomes a platform that is active at all times of day, a place where artisans can gather, collaborate and create."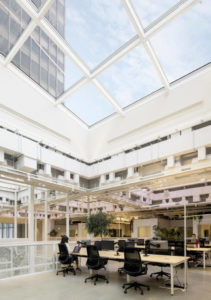 The layout of the office is structured in a square, grid format, which enables free flow of activity and contributes to cohesiveness of the varied functions. It serves as an extension of the urban environment in which it is located, at the intersection of disciplines and social spheres.
Covering the entire office area, the grid format made it possible to conceptualize an open zone where different functions coexist easily and freely. In contrast to siloed, fragmented offices, Sid Lee Architecture used the template as a platform to link all the spaces and the people moving within them.
On the ground floor, the main entrance to the Sid Lee offices provides an uninterrupted view of the public plaza. The dominant material type on this floor is mineral, with monoliths made of bush-hammered stone rising to form the café, kitchen, and washroom spaces. This level's different uses create the impression each function is emerging from the ground independently, serving as reference to the underground city.
Once a visitor ascends to the first mezzanine and gains access to the two large stone quadrants where Sid Lee's main creative and working spaces are located, the natural elements, already found at the ground level, now take centre stage. A third bridge has been added to the two existing ones to connect these two cubes in an agile and flowing manner.
On this floor, the grid as an organizational concept is apparent in each element, whether architectural or aesthetic. The centre of each quadrant serves as an agora, offering a more welcoming atmosphere, encouraging people to gather.