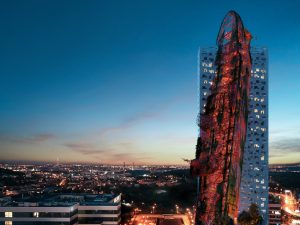 Plans are revealed for the 'shipwreck' skyscraper, which could be the tallest building in Prague, Czech Republic. Called Top Tower, the building is 135 m (443 ft) tall.
The tower looks as though a massive metal tanker ship has slammed into its façade. The ship will be covered in greenery, and is meant to conjure a post-apocalyptic scene while drawing attention to environmental issues, reports Expats.cz.
The project was designed by sculptor David Černý and architect Tomáš Císař from Black n´ Arch.
The building will be used for rental housing with offices, and premises for a multifunctional cultural centre connected to a publicly accessible roof garden on the lower floors. On the ground and second floors, there will be shops with parking spaces underground.
The building will offer a public lookout at the highest point of the tower that visitors could reach via a ski lift.
The skyscraper seeks to achieve the Leadership in Energy and Environmental Design (LEED) Gold certification.
Construction is expected to begin in 2021.