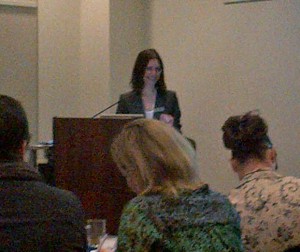 This week, Toronto-based accounting/advisory firm Shimmerman Penn LLP hosted "Elements of a Successful Practice," an educational event for design/construction professionals.
The event, held at the MaRS Discovery Centre, welcomed architects and engineers from various firms to listen and weigh in on how their practices maintain commitment to design excellence and success.
The keynote address by MaRS' CEO Ilse Truernicht was focused on the organizations' commitment to innovation and research in Canada. Its goal is to become a "magnet for global citizens," exceptional talent, and ground-breaking research in the country. Phase 2 of the centre's research location is set to open in September.
Elaine Pantel, Shimmerman Penn LLP principal, was pleased with this year's event.
"We are very pleased about how the event went this week," she told Construction Canada Online. "Each year, the number of participants has increased and 2013 was our biggest turnout ever to one of our events."
The presentation also focused on financial benchmarking for increased firm performance, and informed attendees about updates regarding efficiency metrics, budgeting, and other benchmarking methods.
Finally, a panel discussion included Maureen O'Shaughnessy, BES., B.Arch., REFP, OAA, MRAIC (CS+P Architects), Phyllis Crawford (Kuwabara Payne McKenna Blumberg Architects [KPMB]), and John van Nostrand, B.Arch, OAA, AAA, FRAIC, FCIP (rePlan, planningAlliance, and regionalArchitects).
The discussion focused on:
each firm's definition of success;
compensation strategies;
how to find future firm leaders and continue its legacy; and
how each firm's culture is defined.
Shimmerman Penn will have other presentations and events throughout the year for architects, engineers, and designers.