Seven cities to expand electric vehicle charging networks
May 8, 2018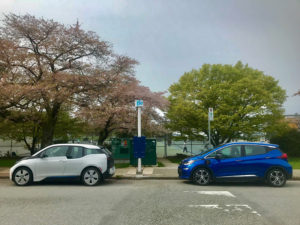 Natural Resources Canada[2] has promised $6.7 million to expand the country's curbside charging infrastructure for electric vehicles (EV). The funding will come from the Energy Innovation Program's[3] Electric Vehicle Infrastructure Demonstrations component.
Participating cities include:
London, Kitchener, Waterloo, and Cambridge in Ontario;
Edmonton; and
Vancouver and Surrey in British Columbia.
This project hopes to address the needs of EV drivers living in urban areas, benefit local businesses, and advance the country's existing charging infrastructure.
"This project will create jobs, develop an internationally marketable technology, and help reduce greenhouse gas (GHG) emissions, by making it easier for more Canadians to drive electric vehicles," said federal minister of Natural Resources Canada Jim Carr[4].
FLO[5], one of the country's largest electric vehicle (EV) charging networks, is providing infrastructure and operation services, as well as consulting on installation. It will be implementing 100 new urban charging station spaces.
The stations can charge two EVs at once. They are equipped with a retractable cable management system, and the sturdy aluminum casing can withstand harsh weather conditions, corrosion, and vandalism.
Installations have been completed in Vancouver. The remaining stations will be installed by March 31, 2019.
Endnotes:
[Image]: https://www.constructioncanada.net/wp-content/uploads/2018/05/EV.jpg
Natural Resources Canada: https://www.nrcan.gc.ca/home
Energy Innovation Program's: https://www.nrcan.gc.ca/plans-performance-reports/dp/2017-18/19286
Jim Carr: https://www.nrcan.gc.ca/minister/1905
FLO: https://flo.ca/
Source URL: https://www.constructioncanada.net/seven-cities-to-expand-electric-vehicle-charging-networks/
---