Series of sustainable envelope forums kicks off in Toronto
by mbuckstein | May 15, 2013 12:21 pm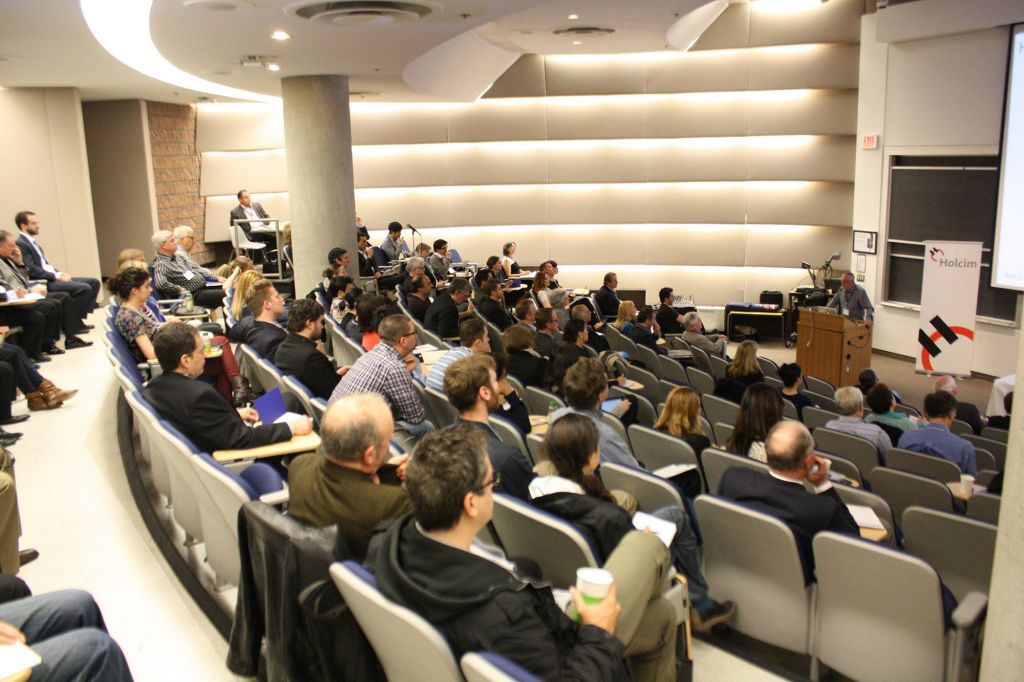 Last month, the first forum in a collaborative series on sustainable development took place at the University of Toronto (UofT) campus, bringing together industry leaders from various sectors.
The event, Sustainability, Durability, and Design: The Future of Building Envelopes, was presented by UofT's Department of Civil Engineering and the John H. Daniels Faculty of Architecture, Landscape, and Design, as well as Holcim Canada.
More than 100 attendees discussed urbanization's effect on development and addressing energy efficiency needs in new and older structures. Speakers at the event included:
Alex Speigel (Windmill Developments);
Eleanor McAteer (Tower Renewal Project);
Joe Lobko (DTAH Architects);
Kevin Hydes (President/CEO, Integral Group) and
Construction Canada author Kim Pressnail, PhD (associate professor of engineering at UofT).
Topics of discussion focused on retrofitting existing buildings to increase efficiency, what can be changed to create more sustainable envelopes, and increasing consumer demand with improved envelopes.
Holcim Canada's Nick Caccavella told Construction Canada Online the first forum was well received.
"The feedback from the participants was great and Holcim Canada would like this to become a regular platform for innovative ideas and thought-provoking dialogue on sustainability," he said. "We are planning to co-host the forum with University of Toronto twice a year, with the next one planned for the fall of this year."
Endnotes:
[Image]: http://www.constructioncanada.net/wp-content/uploads/2014/06/20130502_C2941_PHOTO_EN_26281.jpg
Source URL: https://www.constructioncanada.net/series-of-sustainable-envelope-forums-kicks-off-in-toronto/
---