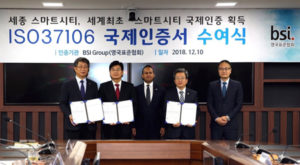 Sejong, South Korea, is the world's first city to receive the International Organization for Standardization's (ISO's) smart city certification. The ISO 37106, Sustainable cities and communities – Guidance on establishing smart city operating models for sustainable communities, designation is awarded by the British Standards Institution (BSI) to a city that has achieved world-class performance and maturity in light of the smart city framework.
BSI measured Sejong in 22 categories covering vision management, road mapping, a citizen-centric management service, high-end urban resource management, open platform efficiency, benefit realization, etc. Sejong scored higher than level III on average. The scale ranges from I to V: I (poor), II (in progress), III (mature), IV (advanced), and V (excellent).
Sejong was chosen as an administrative district as part of a government-led project to secure a new growth engine for the economy. Last year, the South Korean government designated the '5-1 Life Zone' in Sejong as a test bed for a smart city.
"Sejong, Korea Land and Housing Corporation (LH), and the National Agency for Administrative City Construction (NAACC) have worked together and the result has been obtaining the world's first authorization for the smart city. I believe that it will also present a new model for cooperation between urban construction and the smart city project," said Lee Won-jae, administrator of NAACC.