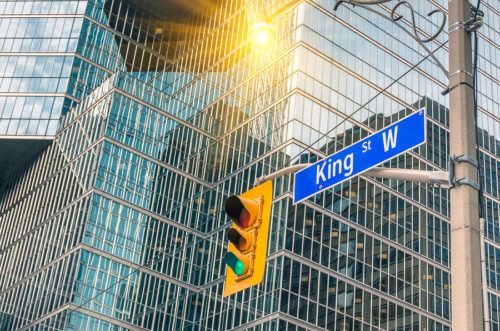 Last week, the City of Toronto launched Everyone is King, an outdoor design-build competition to take place in the city's downtown core. Mayor John Tory invited design professionals, architects, local businesses, students, and community groups to submit concept proposals for installations in public spaces along King Street.
The competition follows the November implementation of the King Street Transit Pilot, which prioritizes streetcar service along King between Bathurst and Jarvis Streets by prohibiting drivers from travelling straight through these intersections and eliminating on-street parking. The pilot created 19 curb lane public spaces, with depths varying between 1.95 and 2.45 m (6.4 to 8 ft) and lengths from 12 to 138 m (39 to 453 ft). Local businesses and restaurants have first claim to utilize these areas; the remaining spaces will showcase submissions for Everyone is King.
Two spaces will be reserved for durable destination parklets, which will continue to be used following the competition, and the rest will host temporary public space installations (PSIs). Parklets are accessible seating areas or green spaces intended to create dynamic social spaces. (Cities like Vancouver and New York have experimented with ways parklets can transform neighbourhoods.) Meanwhile, PSIs allow participants to get a bit more creative, with Toronto citing examples like public art installations and largescale games.
Applications for Everyone is King must be submitted by January 30, with winning projects installed in the spring. To apply, click here.
To read the full Toronto Star announcement by Tory and councillor Michael Thompson, click here.