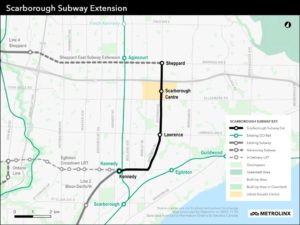 The Scarborough Subway Extension Stations, Rail and Systems (SRS) project in Greater Toronto will extend the Toronto Transit Commission's (TTC's) Line 2 subway service, replace the existing Line 3, connect to Line 5, GO train and buses, TTC buses, and Durham Region Transit to offer quick and seamless access to city's downtown and reduce travel times.
Scarborough Transit Connect (STC), a 50/50 consortium between Aecon Group Inc. and FCC Canada Limited (FCC) in which Aecon is the lead partner, has been selected by Metrolinx and Infrastructure Ontario (IO) as the development partner for the SRS project. The SRS package for the Scarborough Subway Extension is being delivered using a progressive design-build (PDB) model.
STC has executed a development phase agreement with IO and Metrolinx to collaboratively finalize the scope, cost, and schedule of various elements of the project over an 18-month period, with certain early works activities commencing during this phase. Upon successful completion of the development phase, an implementation phase will commence under a target price contract.
The Line 2 extension will stretch nearly eight km (five mi) farther from the existing Kennedy Station northeast to McCowan Road and Sheppard Avenue.
"Aecon is playing a leading role in delivering some of the most transformative transit projects of this generation and we are pleased to bring our proven Urban Transportation Solutions expertise to this world-class project that will connect communities in Scarborough and across Toronto," said Jean-Louis Servranckx, president and CEO, Aecon Group Inc. "We are pleased to be working with our client and partner through the progressive design-build framework, which is designed to benefit all stakeholders and will allow for a collaborative approach to finalize scope, cost, and schedule for this complex and large-scale project."