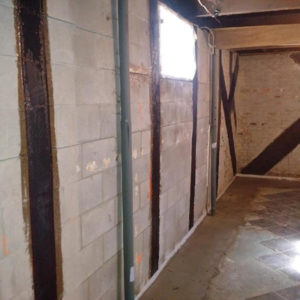 by Bryan Baeumler
There is one thing you can count on with basements: given enough time, cracks will appear. Every crack tells a different story, but whatever the cause they need to be dealt with quickly, to avoid further damage. Both poured and block walls experience cracking, and they can be addressed successfully, as well as permanently, by going beyond the usual crack repairs.
Cracks in poured concrete
In a poured basement cracks appear during the curing process as the concrete naturally shrinks and expands over time. The go-to repair is crack injection, but there is a high failure rate since the repair itself does not keep the wall from moving, which is often what causes these cracks. When a wall moves after a repair, the weak point is the concrete along the line of the repair where the initial cracking occurred. The key is to address why the crack appeared in the first place, and there are many forces at work that could have caused it. If the crack resulted from outside soil pressure or movement in the foundation wall, there is no guarantee the crack will not reopen post-injection. A contractor can have a strong injection method, but when the wall moves again—which it will—it is not the epoxy or polyurethane that will fail, the failure resides where the crack injection material meets the fractured concrete. Given renewed pressure, the two will split apart along the same fault lines.
Carbon fibre provides a permanent solution
While an injection will temporarily address water issues, it does not address the key issue—the weak zone surrounding the crack. This weak zone will cause the wall to move again and the repair to fail.
The only way to avoid this is by addressing the source of the problem by applying a permanent structural solution on top of the injection. With a carbon fibre overlay the contractor is applying a two-step composite system, bonding carbon fibre to the surface of the concrete. It bridges the weak zone around the crack, reinforcing it, and providing a permanent structural solution in addition to the waterproofing. Carbon fibre is roughly 10 times stronger than the steel used to reinforce the concrete itself as found by several tests, including manufacturer research. The result is much more than a crack repair job, it actually makes the entire structure stronger and more resilient. Now the contractor has a structural repair for something they would have approached as a water leak issue.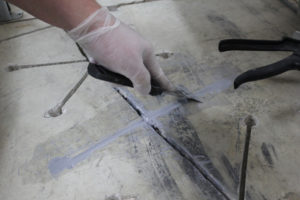 Cracks and bowing in block walls
When addressing issues with block walls, contractors often deal with stair step cracks or bowing as a result of poor construction—from a failed waterproofing membrane, a lack of rebar, improper drainage of backfilling, or negative fall on grading. Any of these issues could cause leaking or even worse, excessive forces on the wall. When minor cracking and the issues mentioned above are ignored, what were once minor cracks could turn into a bowing wall. If bowing is not rectified in a timely fashion, the wall will likely undergo a shearing problem and eventually collapse.
With a bowed wall, contractors typically try one of four things:
wall tie backs or anchors;
addition of beams;
a dig and push method; or
carbon fibre.
While steel beams would seem to provide an answer, there are several problems. If the wall is bowed, the steel will not be in contact with the wall for the full height. Sometimes grout is packed in behind the beams but as the soil pressures change and relax, this grout can fall out. When there is a void behind the beam, the problem is not addressed and wall shearing can still occur. Carbon fibre, on the other hand, offers the most complete solution to reinforce bowed walls. A carbon fibre system ties in the footer, wall, and sill plate for complete protection against any movement. Straps can easily be painted or covered to avoid any potential esthetic issues with clients, and in worst-case scenarios, carbon fibre saves walls from having to be pushed back into place, or removed.
The versatility of carbon fibre
Carbon fibre was designed to reinforce infrastructure. Large-scale applications are applied to parking garages, bridges, and overpasses, and used in the military. For walls that are failing, carbon fibre can not only salvage them from demolition but can bring them back to an even stronger condition. In addition to construction and repair projects, carbon fibre is used in the aerospace industry, sporting goods, and in performance automotive products.
Carbon fibre saves the contractor time and effort
Foundation repair contractors are looking for the best, most cost-efficient solutions for concrete repairs. They prefer to tackle the work on their own and want to be profitable with every project. They also want peace of mind their solutions will not fail and disappoint. With the right carbon fibre solution, contractors can avoid having to address expensive repairs on the outside of the home. In most cases, carbon fibre repairs can be done from the inside of the house, so no digging is required on the outside. This means there is no need to call a waterproofing company for excavation, saving time and money for the homeowner. For the contractor, there are multiple benefits including:
no need to sub out work or introduce steel into the basement structure; and
the material itself is durable and non-corrosive.
It also minimizes call-backs for liability issues the contractor would need to face if the basement repairs failed.
The use of carbon fibre in concrete and crack repair is relatively new. However, contractors and specifiers are taking notice of the benefits of the material and specifying carbon fibre for commercial projects. Manufacturers of carbon fibre solutions are also educating and further promoting its various uses to contractors, making it a new and emerging solution for residential contractors as well. Carbon fibre's flexibility is one of its best elements and presents little challenges for use as there are several ways carbon fibre can be used and manufactured to suit its various applications.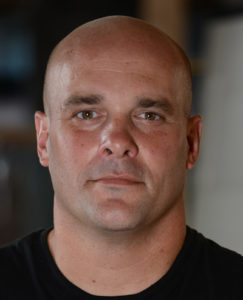 Bryan Baeumler is a HGTV host, professional builder, and entrepreneur. Known for his HGTV shows such as House of Bryan, Leave it to Bryan and Disaster DIY, Baeumler is one of Canada's best-known DIY experts. Baeumles is also a brand ambassador for DRIcore. When not on set or site, Baeumler, his wife Sarah, and their four children juggle their own renovation projects. He can be reached via Twitter @Bryan_Baeumler.

Control the content you see on ConstructionCanada.net!
Learn More.