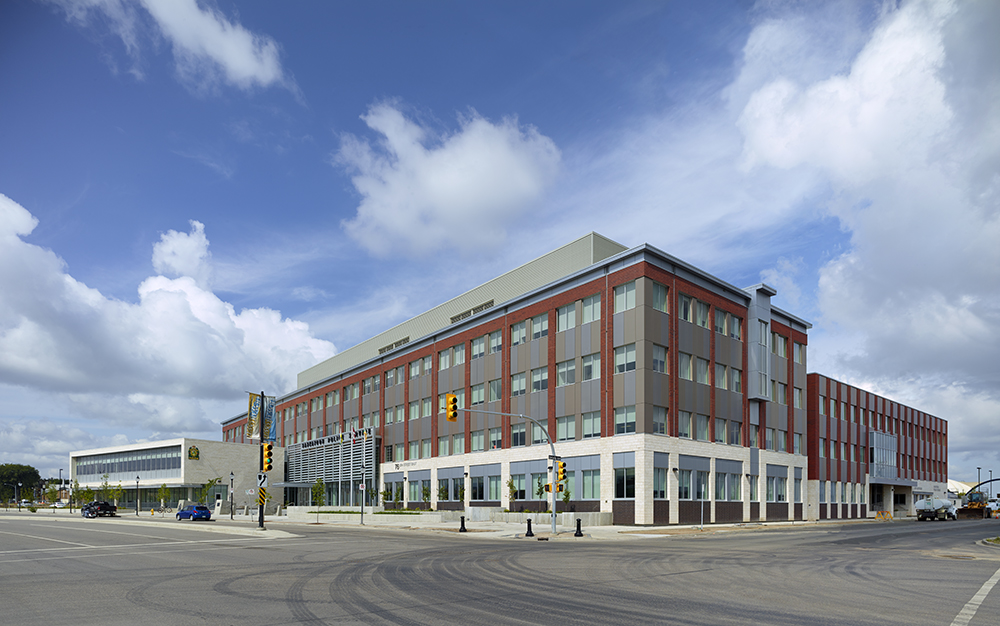 More than 650 members of the Saskatoon Police Service moved into their new home this summer—a facility addressing numerous issues that arose as the service grew and modern policing methods evolved over the past 30 years.
The new headquarters—located at 76 25th Street East on a newly reclaimed site in the city's former warehouse district—consolidates staff previously operating in 12 separate buildings across Saskatoon. The $103.4 million, 36,232-m2 (390,000 sf) structure was designed by CS&P Architects, in partnership with local firm aodbt architecture + interior design, and built by EllisDon under a design-build contract. It centralizes the city's police service needs on a single site, making it one of the most comprehensive municipal police buildings in Canada.
The Leadership in Energy and Environmental Design (LEED) Silver designated building includes:
● state-of-the-art forensics labs;
● property and evidence storage;
● an indoor firing range;
● firearms training simulator—the first-of-its-kind in a Canadian police facility;
● detention centre with more than 50 holding cells;
● 911-communications centre;
● canine training facility;
● computer lab;
● three training classrooms;
● gymnasium; and
● aboriginal culture room.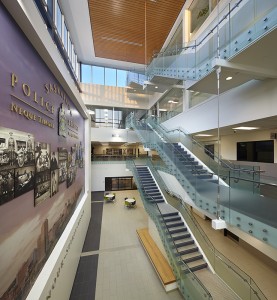 The meeting rooms and gymnasium feature access from the public lobby, allowing for interaction with community groups. The welcoming service desks handle both public enquiries and record checks.
A goal of the design team was to reinforce the police service's philosophy on community policing by designing a building that felt open and welcoming to the public. The central challenge was to accommodate all the complex needs of numerous program spaces into one comprehensive building, while ensuring a clear and coherent organization, operation, and way-finding for the public and more than 600 staff members.
Toronto-based architectural practice, CS&P, has more than 25 years of experience working in the justice sector.
"Police buildings are complex design challenges because they comprise so many functions—everything from standard office space to labs for crime scene forensic analysis, firing ranges for training, exhibit storage, and secure holding areas for detainees," said CS&P principal, Peter Ortved.
From a construction standpoint, the project presented a few challenges. Built in Saskatoon's North Downtown Area, and expected to set the context for the development of a new residential and mixed-use community, access to the site was via a major new road being built simultaneously by the city. The building's floorplates were large, and unlike a typical office building, there was little repetition in the floor plans. In the final stages of construction, all the service's equipment needed to be moved in and installed, which required extensive coordination.
"The detention and forensic units have a lot of products and equipment that are not typical, and we had to allow longer lead times for all the lab equipment to make sure deliveries were lined up," explained EllisDon Corporation project manager, Josh de Nijs.
After much anticipation, members of the police service are now settling into their new home. Designed to accommodate staff to serve a municipal population growth of up to 300,000, the Saskatoon Police Services Headquarters is anticipated to serve the city's police force for the next 40 years.

Control the content you see on ConstructionCanada.net!
Learn More.