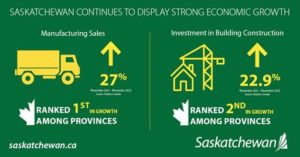 According to recently released data from Statistics Canada (StatCan) for November 2022, the value of investment in building construction in Saskatchewan ranked second among the provinces, with a 22.9 per cent hike since November 2021.
In November 2022, the value of building construction investments in Saskatchewan was $433 million. In the last quarter of the year, there was also strong growth in several other key economic indicators. In December, the province's unemployment rate fell to 4.1 per cent, the second lowest among the provinces, and well below the national average of five per cent (seasonally adjusted). Additionally, StatCan's data for Saskatchewan's manufacturing sales in November 2022 showed an increase of 27 per cent over November 2021.
November 2022 also saw merchandise exports rise by 44.5 per cent, the second-highest increase among the provinces. There was also a nine per cent increase in retail trade and a 46.7 per cent jump in wholesale trade in October 2022, compared to October 2021.
"Month after month, Saskatchewan shows continued growth in several different key economic indicators, with record investment in our province," says Trade and Export Minister Jeremy Harrison. "Saskatchewan's economy is one of the most competitive in the nation, and today's data provides further proof our province remains the best place to work, live, and do business in Canada."