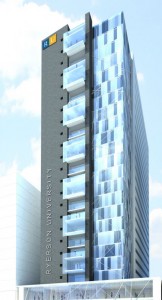 Ryerson University is adding another residence to its campus in downtown Toronto.
Construction of the new building is expected to begin in 2014, and it is slated to open for the 2016 school year. The proposed 23-storey building—developed by the MPI Group and designed by IBI Group Architects—will include a two-storey podium at grade offering a mix of services such as cafés, retail, and a service outlet.
"Our students have told us they want more and better housing options closer to campus," said Sheldon Levy, Ryerson's president. "This new residence will do just that—adding more than 500 beds and increasing the number of residence spots by 30 per cent, this is just the first wave of 2000 new residence spaces that we plan to add by 2020."
The residence—a public-private partnership (P3) between Ryerson and the MPI Group—will include:
• laundry;
• shared kitchens;
• modern open concept living spaces;
• open terraces;
• glassed-in lounges; and
• one-, two-, three-, and four-bedroom units.
MPI Group's Tom Powers said the project team expects the building will at least comply with the minimum Toronto Green Standard design criteria.