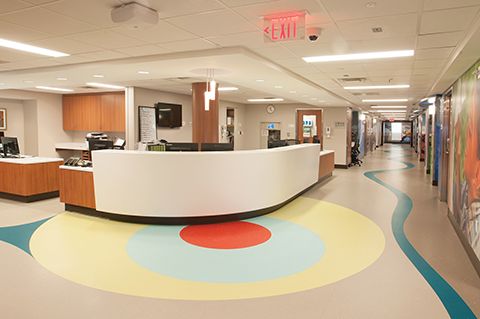 By Tasha Hughes
As design professionals identify products for healthcare projects, they frequently find themselves making recommendations based not only on patient comfort, but also on the well-being of those working in the space. This means specifying materials and finishes promoting healthy, healing environments while contributing to a safe, productive workplace.
In the case of floorcoverings, rubber flooring can support both objectives. These rubber flooring assemblies can offer:
infection control;
improved indoor air quality (IAQ);
sound-dampening properties;
comfort underfoot;
easy maintenance; and
slip resistance.
Nonporous flooring resists dirt and bacteria
Rubber floor's dense, nonporous composition makes it difficult for dirt and bacteria to collect and breed. Naturally bacteriostatic and fungistatic, rubber floorcoverings can help prevent infection in facilities by inhibiting the growth and reproduction of harmful micro-organisms. In hospitals—where exposure to bacteria and fungi is a common challenge—rubber flooring can help protect vulnerable patients and medical staff by meeting strict healthcare regulations and specifications for bacteriostatic interior surfaces.
This same nonporous composition enables the floorcovering to repel dirt and resist chemicals and disinfectants. Additionally, some rubber products do not need finishing, waxing, or sealing—eliminating the need for labour-intensive stripping and re-coating. These types of floors do not need cleaning products containing harsh chemicals to ensure a deep clean. In fact, some manufacturers offer cleaning methods that use tap water—saving healthcare facilities money on chemicals that would typically be employed
for maintenance.
Such a floor's simple cleaning regimen also means large areas of buildings do not need to be removed from service while wax is applied and allowed to dry—which is especially important in busy healthcare facilities operating 24 hours a day, seven days a week.
Woodstock Hospital safety and comfort
As the Southwestern Ontario community of Woodstock grew, it became necessary to expand services to community members, including the construction of a new hospital to replace the original facility opened in 1895. Over its 100-year lifespan, the original facility underwent multiple renovations and additions in the 1950s and 1970s. Eventually, it was unable to sustain the community, and a larger building was needed.
The hospital responded to the health needs of the community by constructing a new 32,516-m2 (350,000-sf) facility to provide primary care to a population of 55,000 and specialized care to nearly 110,000 within the County of Oxford. The facility more than doubled the size of the original hospital.
With 178 beds, the three-storey facility offers a full range of clinical services and programs, including:
physiotherapy and rehabilitation services;
cardio-respiratory services;
a pharmacy service;
laboratory services;
a new inpatient rehabilitation program;
a diagnostic imaging department;
surgical services;
inpatient medical/surgical beds;
critical care and complex continuing care;
a maternal/child/women's health unit; and
impatient and outpatient acute mental health services.
The designers wanted the new facility to be bright and cheerful while also providing safety for patients and staff.
"We needed the capability to expand and accommodate additional services and use new technology to better serve the community," said Blake Hughes, the director of capital projects for the hospital.
As plans took shape and construction began, administrators paid careful attention to the selection of finishes and furnishings for the new facility.
"We looked at different areas and the types of increased services we offered. For example, what type of flooring would be best-suited for dialysis patients and staff, especially with regard to spills and chemicals? We also considered comfort in operating rooms and emergency departments, where the nursing staff remain on their feet throughout an entire shift. Our goal was to minimize the amount of stress and strain they experienced and give them more comfort," remarked Hughes.
The hospital conducted trials on several flooring products recommended by Parkin Architects. They also made phone calls to other hospitals using rubber flooring, including some that installed the floorcovering more than 40 years ago.
It was important the hospital environment be ergonomically correct for staff members. Things like slip hazards, comfort, and patient mobility were major priorities for the floors.

Control the content you see on ConstructionCanada.net!
Learn More.