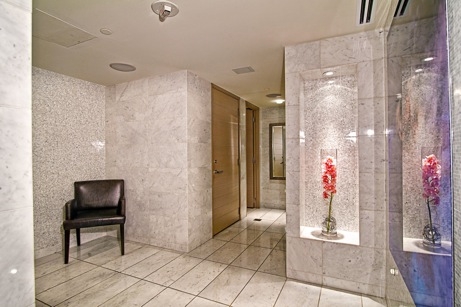 Toronto's e11even restaurant has been named Canada's best restroom. The recognition comes out of a competition held by Cintas Canada, a uniform, data management, and restroom-cleaning company.
Designed by New York's The Rockwell Group, the washrooms—located in a downtown restaurant adjacent to the Air Canada Centre sporting venue—contain modern sink basins and washlets for women. Maintaining the same atmosphere as the dining room, the restrooms are made with floor to ceiling marble, mosaic tiles, and antique granite.
"For a restaurant to have won an award concentrated on hygiene is a huge honour," Steven Salm, e11even's general manager, told Construction Canada Online. "I am very proud of our choice in the Rockwell Group to design our restroom while portraying the true idea of resting and indulging from the moment a guest enters our restaurant, dines at our tables, and uses our facilities. We had some tough competition and to come out on top being nominated by the public as number one makes this award even more extraordinary."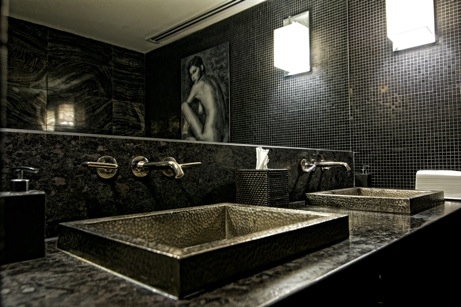 This year's contest attracted nominations from restaurants, hotels, convention centres, and a car dealership. Based on exceptional hygiene, style, public accessibility, and usability, five finalists were selected. The others included:
• Second place: Allstream Centre (Toronto);
• Third place: Hôtel Le Germain Montréal;
• Fourth place: David Morris Fine Cars (Edmonton); and
• Fifth place: Ottawa Convention Centre.
Cintas created Canada's Best Restroom Award in 2010 to honour those businesses that place hygiene and style at the top of their priority lists.
"Cintas made the correlation between clean and appealing restroom and customer satisfaction and retention," Sabrina K. Zimring, the company's survey editor, told Construction Canada Online. "Bottom line, clean restrooms affect a business, so this contest is a way to raise awareness of the value of clean and stylish restrooms to business. More and more people are investing in their restrooms and the public is demanding it more and more, too."