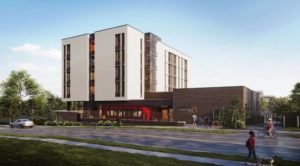 Ronald McDonald House Atlantic has collaborated with Montgomery Sisam Architects and Lydon Lynch Architects to design an expanded facility, to accommodate the rising number of kids seeking specialized care at the IWK Health Centre in Halifax.
Modelled on the concept of "home away from home," the expanded residence will respond to the trend towards longer treatment periods, focus on establishing a healing and welcoming environment for families, and create a refuge from the hospital and the city. It will increase the number of family rooms from 18 to 35 and introduce four larger suites—two-bedroom apartments with a kitchen space—for families who must stay long-term, or children who are immunocompromised. Similar to a university residence building, families are responsible for looking after their rooms or suites, as well as cooking and grocery shopping.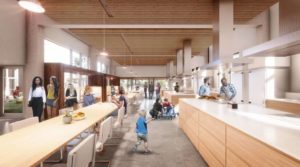 The ground floor of the building will house a number of shared living and specialized program spaces, including art rooms, a common kitchen, and dining and lounge facilities. The communal dining area will feature a number of cooking stations, where families can prepare their meals at any time during the day. Aside from tables, the space also offers booths for residents looking for extra comfort and privacy to fully enjoy their meals.
Additionally, to offer a respite from the bustle of the city, the architectural teams have designed an outdoor sanctuary—a walled garden—which evokes a sense of security and protection and is meant to help residents relieve stress and soothe their anxiety. Families will also have access to an outdoor courtyard, which serves as another lounge and a children's play area.