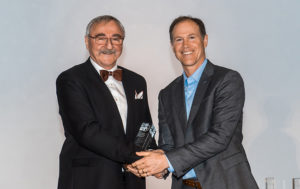 Roland Charneux, director of Pageau Morel et associés, received the Green Building Pioneer Award from the Canada Green Building Council (CaGBC).
The award recognizes an individual who demonstrates an innovative approach to advancing the green building industry.
Charneux has integrated sustainable development measures in his projects since the beginning of his career in 1976, and has designed hundreds of green projects nationwide, including major constructions, Leadership in Energy and Environmental Design (LEED) projects and experimental green buildings, the company said.
"Pageau Morel wishes to congratulate and thank Roland Charneux for his exceptional contribution to the industry," the company said. "We are proud to work with an engineer who has greatly influenced and inspired the green building industry for over 43 years, while training the next generation of engineers."