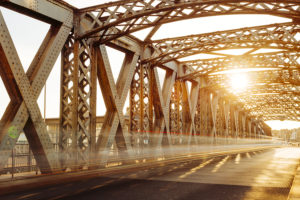 Last month, Indigenous and Municipal Relations Minister Eileen Clarke and Association of Manitoba Municipalities (AMM) president Chris Goertzen announced the province's 2017 Municipal Road and Bridge Program. With this program, municipalities could apply to receive cost-shared funding for municipal road and bridge projects through two components—the Municipal Road Improvement Program and the Municipal Bridge Program.
"Our government recognizes that investments in our roads, bridges, and other transportation infrastructure can deliver long-term economic benefits and support the sustainable growth of Manitoba communities," said Clarke. "We'll continue to build on our streamlined single-window application process for municipalities to deliver investments that are strategic and deliver value for taxpayer dollars."
Goertzen agrees the program provides such value.
"The Municipal Road and Bridge Program is extremely important to Manitoba municipalities," he said, adding the "simplified application process and input from AMM during the selection process make this program tailored to local needs to our communities. AMM continues to advocate for predictable and long-term municipal infrastructure investments, and a continued partnership with the provincial government on how this funding is allocated."
Investments in Manitoba's roads and bridges come from various sources, with Manitoba Infrastructure budgeting $747 million for roads, highways, bridges, and flood protection outside Winnipeg, $14 million being made available directly to municipalities (with up to 50 per cent cost-shared funding allotted for road and bridge renewal projects), and Manitoba Water Services Board investing $18.8 million (up by $2 million in the new provincial budget).
"This funding is part of a commitment in Budget 2017 to spend $1.7 billion on infrastructure across the province, which is amongst the largest total infrastructure expenditures in Manitoba history," said Clarke.