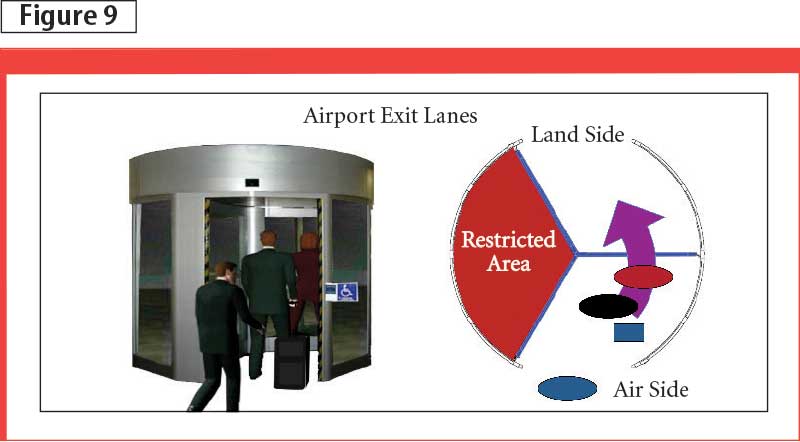 The most common automatic revolving door is a three-wing design; this style offers convenience and energy efficiency while maintaining a lower cost to install. Since it has a larger compartment size than the four-wing, one can move large volumes of people through. A 3-m diameter revolving door in a three-wing design allows an unassisted wheelchair to pass through the door. (An assisted wheelchair requires a diameter of 3.7 m [12 ft].) The standard sizes of both two- and three-wing doors are from 3 to 4.9 m (10 to 16 ft) in diameter.
The four-wing design is very seldom used in an automatic configuration, as the compartment sizes become small. The required wing sensors take up too much of the usable compartment size, causing the door to stop or slow too frequently in a two-way traffic situation. As a result, several manufacturers have discontinued offering this product, especially with viable options in two- and three-wing designs.
Security doors
Revolving doors have been used to provide a secure entrance for more than 20 years. When a swing or slide door is equipped with a card reader and the necessary magnetic lock or electric strike, it is assumed to be a secure entrance. The deficiency with this philosophy, however, is once the door is open there is nothing to prevent multiple people from entering with the authorized person and breaching the intended security. A two-way security revolving door will address risk scenarios like tailgating (i.e. unauthorized entry attempt while an authorized person is entering or exiting) and piggybacking (i.e. unauthorized entry [forcible or collusion] in the same compartment with an authorized person).
A revolving security door turns one compartment at a time, allowing only a single person to enter the secure area. A four-wing design is ideal to provide two-way control. Security revolving doors have also been specified for dormitory and office building applications where they function as standard openings by day, and security areas by night.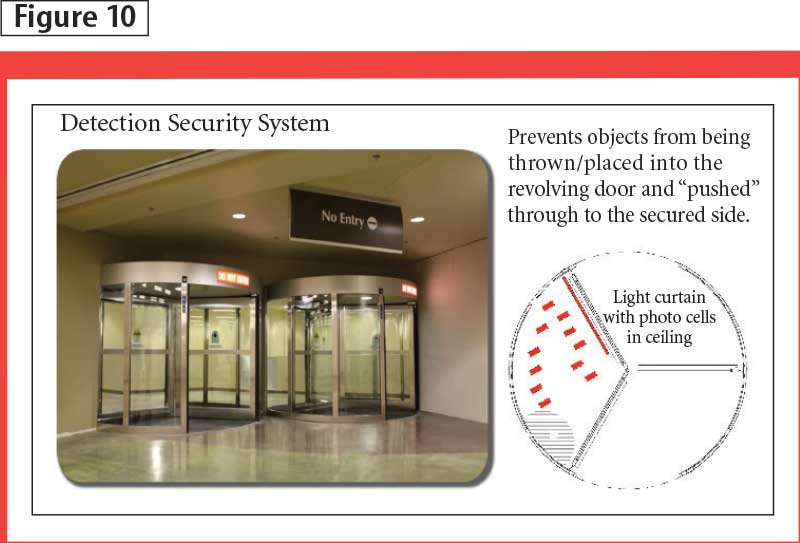 Airport exit lane turnstiles
All airports have secure and non-secure sides (sometimes called 'airside' and 'landside'). Exit lane turnstiles keep these two areas separated. Entering through security has become routine for experienced travellers. People are required to place many of their personal belongings on a conveyor belt and pass through the metal detectors. After arriving at the destination, they pass by a security guard and leave the airport through a barrier-free walkway.
For the past 15 to 20 years, many airports have installed a physical barrier that takes the passengers and employees from the secure side back to the non-secure side through a one-way security revolving door. Typically supplied in a three-wing design, this door allows passengers to leave the airport through a secure one-way exit. It can eliminate the need for a security guard to be stationed at this door, and enable the guard to be deployed to make roving patrols (Figure 9).
In the past five to seven years, some airport authorities have requested an additional level of security to prevent objects from being thrown or placed into the revolving door and 'pushed' through to the secured side. Light curtains and volumetric sensors prevent anyone from having an object swept into the secure side. They are installed in the same secure quadrant (Figure 10).
Efficiency and savings
Empirical studies by Massachusetts Institute of Technology (MIT) and American Society of Heating, Refrigerating, and Air-conditioning Engineers (ASHRAE) have demonstrated revolving doors to be a significant source of energy savings.1 Therefore, they can also be contributors toward points under Canada Green Building Council's (CaGBC's) Leadership in Energy and Environmental Design (LEED) program.  (In terms of LEED, possible credits to which revolving doors can contribute include Energy and Atmosphere (EA) Credit 1, Optimizing Energy Performance, Materials and Resources (MR) Credit 4, Recycled Content, Indoor Environmental Quality (EQ) Credit 4.2, Low-emitting Materials, and EQ Credit 6.2, Controllability of Systems: Thermal Comfort).
The study concluded the amount of energy to cool or warm a building is directly related to the amount of air exchanged to/from the building. Since revolving doors keep a better airlock than traditional swing or sliding doors, it follows the energy needs to keep the building at a preset temperature is lower than using a traditional entrance.
Naturally, in determining the savings, there are several factors involved. They include:
entrance location (i.e. weather conditions are a key factor);
number of hours the entrance is in operation, along with the number expected to enter and leave (i.e. traffic);
building's desired indoor temperature;
humidity and wind speed;
building height; (Building height is important because of stack pressure—the hydrostatic pressure caused by the weight of an air column located inside or outside of a building. Stack pressure is caused by the temperature difference between the inside and outside—the taller the building, the greater the pressure differential. In other words, if a manual door is opened in the summer and the building is air-conditioned, there is a column of air inside. If the building is 9 m (30 ft), it is not as heavy as it would be in one that is 18 m (60 ft). The heavier column of air will leave the building faster). and
energy cost per kilowatt.
Figure 11 illustrates the example of a 18-m (60-ft) tall Toronto building equipped with a three-wing, 3-m (10-ft)
revolving door instead of a vestibule entrance with two 2.8-m (9 1/5-ft) sliders.
According to one analysis, the results would be:
cooling equipment savings of 1267 tonnes;
heating savings of 394,358 Btu/hr;
reduced carbon dioxide (CO2) emission of 117,140 kg (258,250 lb) annually; and
a return on investment (ROI) of a revolving door of 20 months.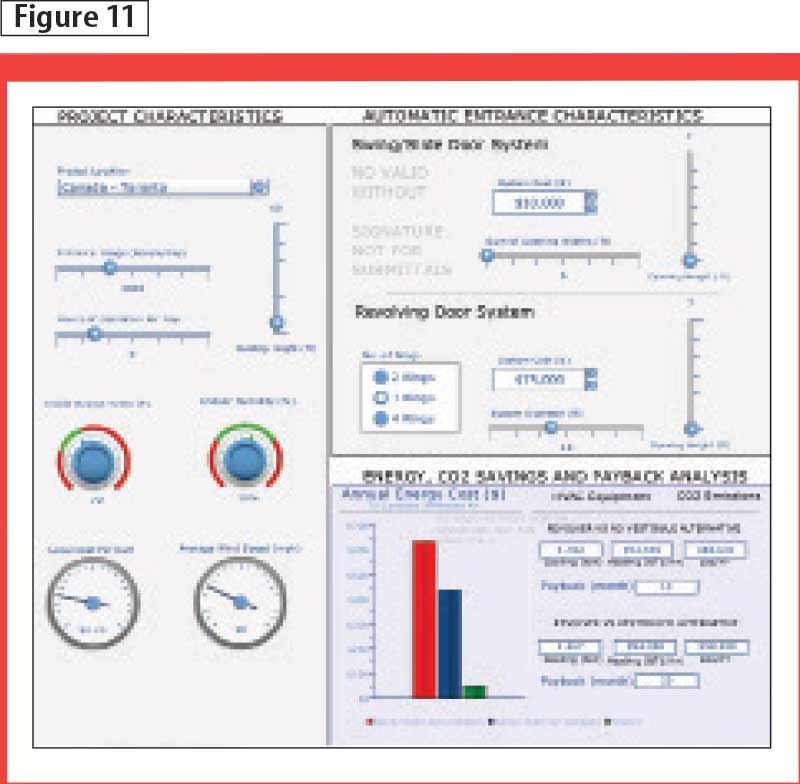 Conclusion
Beyond security, energy efficiency, and traffic performance, one must also consider the esthetic impact of a revolving door. Will it give the intended look of a building's entrance and will it architecturally meet one's needs?
Major airports, hotels, hospitals, and casinos have all chosen revolving doors for an 'enhanced' appearance. While enjoying the energy-efficient benefits previously discussed, revolving doors meet high architectural demand and appeal. The finish can be furnished to match adjacent construction and the wing/drum design can match important sight lines. Although revolving doors have been around for more than a century, it is quite likely that the next 10 years will bring about major increase in demand and acceptance as a preferred entrance solution.
Bob Augustine is the vice-president of sales for Horton Automatics. A 20-year veteran of the industry, he manages the company's architectural development programs and works with distributors throughout the Americas. Augustine can be reached at bob_augustine@overheaddoor.com.
Elias Campos is Horton's vice-president of marketing and product development. He has extensive experience in infrastructure project management, marketing, and sales. Campos' experience includes stints with PDVSA-Citgo, Emerson Electric, and Overhead Door Corp. He can be contacted via e-mail at elias_campos@overheaddoor.com.

Control the content you see on ConstructionCanada.net!
Learn More.