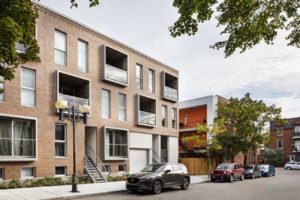 The ADHOC architects' Le Jardinier ("the Gardener"), a multiresidential project in Montréal, has earned the Leadership in Energy and Environmental Design (LEED) Platinum certification. The project also won the 2018 Inova Award by the Urban development institute of Québec (IDU) in the multiresidential projects of $50 million and less category.
Developed by Knightsbridge, Le Jardinier has 16 units. The project's intent was to develop affordable housing for a diverse clientele, ranging from families to young professionals.
Guided by the prevailing concept of openness, the building was designed with double aspect apartments. This was a key element of the project, allowing all users to have a view of the inner courtyard and ensuring residents can enjoy natural daylight. Each unit benefits from generous fenestration at both ends, with a loggia on one side or the other. This play and shift in plan results in a pleasant dynamism on the courtside and street façades. The loggias ensure privacy and soundproofing between the units, and act as cocoons that are both intimate and aerated. Additionally, each unit of the top floor includes a mezzanine with a terrace and offers views of the city's horizon and the Jacques Cartier Bridge.
Another architectural challenge of the project was resolving the relationship with a neighbouring building as its occupants needed to evacuate through the project's lot. A passage in the form of a carriage entrance was developed as the most interesting solution. This element subsequently influenced the remainder of project, from the overall structural organization of the building to its envelope. The right area of the ground floor, including the garage, the carriage entrance, and the bicycle parking, is treated as a subtraction to the building. This section contrasts from the rest of the brick finish with the use of a different material, thereby minimizing the building's monolithic appearance by bringing a touch of lightness.
The main façade remains sober and integrates well with its urban and historical context. The checkerboard pattern, present in heritage buildings in the neighbourhood is integrated at different scales, from the cornice's brick play to the alternation of the loggias and the various siding materials on the courtyard façade.
To meet the project's intentions of providing a haven of peace for its inhabitants while responding to the needs of a society increasingly close to its environment, emphasis was placed on green spaces. Garden beds for vegetables and vegetation were integrated in the courtyard. Greenery was also incorporated into the upper terraces through raised garden boxes that doubled as guard rails.