Revery Architecture designs B.C. university's new building
September 10, 2019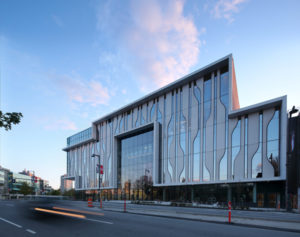 Vancouver-based Revery Architecture[2] has designed Simon Fraser University[3]'s (SFU's) new state-of-the-art engineering building in Surrey, B.C. The academic research facility focuses on clean technology and sustainable energy solutions.
The five-storey, 20,717-m2 (223,000-sf) facility is purpose-built to house the Sustainable Energy Engineering (SEE) program and is targeting the Leadership in Energy and Environmental Design[4] (LEED) Gold certification.
The building comprises wet and dry teaching and research labs, collaboration and study spaces, administrative offices, recreational rooms, lounges spaces, student services, and plant maintenance facilities all organized around a light-filled central atrium.
The building utilized prefabricated precast elements for the façade to minimize construction debris and noise impact onsite. The façade is composed primarily of framed, high-performance, undulating precast concrete sandwich panels, and reflective glazing. Its design, derived from abstracted circuit board imagery (and replicated on the wooden panels lining the lecture hall), symbolizes the technological subject matter taught in the building.
Endnotes:
[Image]: https://www.constructioncanada.net/wp-content/uploads/2019/09/Opener-4.jpg
Revery Architecture: http://reveryarchitecture.com/
Simon Fraser University: https://www.sfu.ca/
Leadership in Energy and Environmental Design: https://www.cagbc.org/CAGBC/LEED/CAGBC/Programs/LEED/_LEED.aspx?hkey=43680f7a-955c-4345-9983-e8cb8683121a
Source URL: https://www.constructioncanada.net/revery-architecture-designs-b-c-universitys-new-building/
---