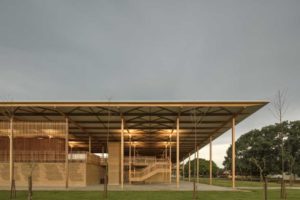 From large urban infrastructure schemes, private homes, and cultural destinations to civic spaces, educational buildings, and places of worship, 20 exceptional new buildings in 16 countries are the recipients of the Royal Institute of British Architects (RIBA) Awards for International Excellence 2018.
Gustavo Utrabo and Pedro Duschenes, founders of Brazilian architecture firm Aleph Zero, are the recipients of the RIBA International Emerging Architect 2018 award. Their project, the Children Village in Formoso do Araguaia, Brazil, provides boarding accommodation for 540 senior school children.
Aleph Zero operates in a range of areas, from the design of furniture, exhibitions, residential, and commercial architecture, to urban-scale projects for both public and private sector clients. Constructed in prefabricated and reforested wood, Children Village demonstrates the importance of using natural resources in a rational and sustainable way.
"The RIBA Awards for International Excellence 2018 are a testament to the breadth and quality of architecture being created around the world. These 20 outstanding projects were selected for their architectural ambition, design ingenuity, and excellence of execution. Importantly, they demonstrate the significant and far-reaching contribution that architecture makes to our daily lives," said Ben Derbyshire, president of RIBA.
The 20 winning projects form the longlist for the RIBA International Prize 2018. A shortlist of four buildings will be announced in September 2018 and the winner will be revealed in November.
The 20 RIBA Awards for International Excellence were selected following a rigorous judging process which involved visits by members of the RIBA Awards Group and an architect local to the region.
The full list of winning projects can be viewed here.