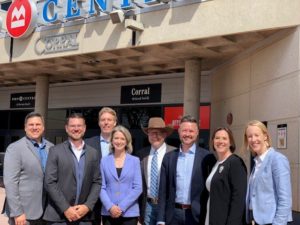 Stantec, Populous, and S2 Architecture have been selected by the Calgary Municipal Land Corporation (CMLC) and the Calgary Stampede to lead the architectural planning and redesign of the BMO Centre in Calgary, Alta. The goal is to transform it into a modern and international-ready venue.
CMLC and the Calgary Stampede initiated a procurement process to identify the project team to lead the $500-million expansion. They attracted interest from across North America and 12 proposals were reviewed before the three firms were selected.
The trio were chosen for their complementary expertise—Stantec's global involvement in transformational community projects, Populous' innovative practices in international convention centre design, and S2's local experience in projects on Stampede Park and in east Victoria Park. The firms will begin design immediately.
BMO Centre has been Calgary's premier venue for consumer and trade shows, special events, meetings, and conferences since its opening in 1982. According to the Calgary Stampede, two previous expansions have allowed BMO Centre to hold its own among the region's meeting and convention venues and this latest expansion will bring it to the next level.
Convention venue operations specialist HLT Advisory Inc., project management firm M3 Development, and construction management company PCL Construction, have also been enlisted.
"When the expansion is completed in 2024, the BMO Centre will have more than doubled its current rentable space, with nearly 92,903 m2 (1 million sf) of total floor space—making it the second-largest facility of its kind in the country," says Dana Peers, president of the board of the Calgary Stampede. "The Calgary Stampede is extremely pleased with the project team now in place. Their success in leading projects of this magnitude not only makes them the right team to do this work, but we know they will help us deliver on our commitment to our community and continue to provide exceptional guest experiences."