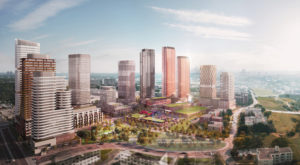 Choice Properties Real Estate Investment Trust (Choice Properties) has announced a new partnership with the Daniels Corporation (Daniels) to revitalize and redevelop phase one of its 8-ha (19-acre) Golden Mile Shopping Centre in Toronto, adjacent to the new Eglinton Crosstown LRT.
The partnership will see the two companies transform the 67-year-old shopping centre into a mixed-use, mixed-income, multi-generational, and transit-oriented community. Phase one will include two condominium towers, a purpose-built market rental building, ground floor retail uses, institutional uses, and office spaces. All these uses will surround a pedestrian mews that will create a new gateway to the Golden Mile community.
The 113-ha (280-acre) Greater Golden Mile area, which will become home to 40,000 new residents over the next 20 years will be largely supported by the Eglinton Crosstown LRT.
Choice Properties and Daniels will kick-start this transformation through the introduction of the Golden Mile Community Innovation District. Working together with community organizations, local councillors, financial, and post-secondary educational institutions, the Community Innovation District will bring together the expertise of all stakeholders. Among the collaborators are the University of Toronto Scarborough (UTSC) and Centennial College.
UTSC will be creating a physical home in phase one for an innovative, collaborative, and integrated college-community-university partnership—the Communiversity. Through this unique concept, UTSC, and Centennial College would work with community partners to enhance access to post-secondary education, foster co-learning opportunities, and facilitate the co-creation of sustainable and inclusive communities. The UTSC Institute for Globalization, Transnationalism and the Advancement of Resilient and Inclusive Suburbs and Economies (GTA-RISE) will serve as an intellectual hub where faculty, staff, students, and community members will explore issues and share ideas that stimulate inclusive cultural and socio-economic development.
Centennial College will partner with UTSC's Communiversity to create program pathways and unique training opportunities to support the vision of the Community Innovation District.
Additional Innovation District collaborations include an 836-m2 (9000 sf) state-of-the-art BMO branch.